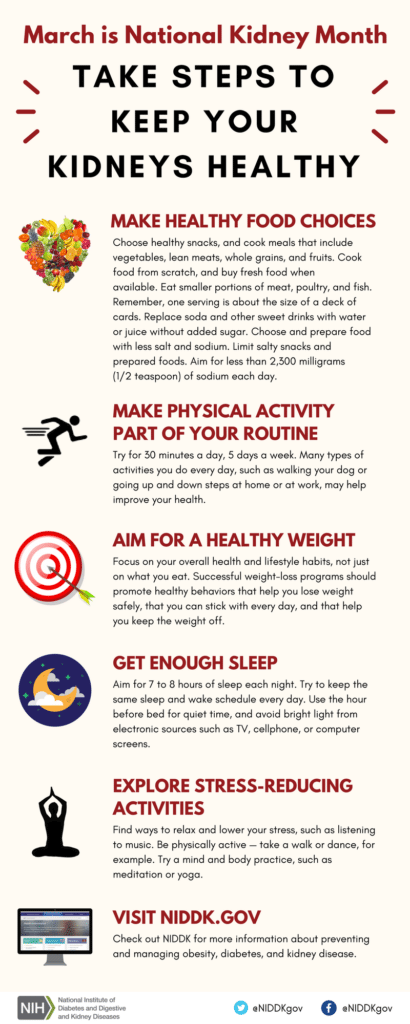 Each March, Great Care joins in observing National Kidney Month to help people become a kidney health champion any time of the year. The National Institute of Diabetes and Digestive and Kidney Diseases (NIDDKD) says people can start by being role models for healthy living.
"Help protect your family from kidney disease and its causes — diabetes and high blood pressure — by adopting healthy lifestyle habits," the NIDDKD says.
Exercise is helpful for kidney health, so the NIDDKD says to make physical activity part of your weekly routine.
"Be active for 30 minutes or more on most days. If you are not active now, ask your health care provider about the types and amounts of physical activity that are right for you," the Institute says.
Healthy eating is also key to improved kidney health. The NIDDKD says the first step to eating right is to choose and prepare foods with less salt and sodium. This helps control blood pressure, as diets should contain less than 2,300 milligrams of sodium each day.
Also buy fresh food often, suggests the NIDDKD.
"Sodium (a part of salt) is added to many prepared or packaged foods you buy at the supermarket or at restaurants," the Institute says. "Cook foods from scratch instead of eating prepared foods, 'fast' foods, frozen dinners, and canned foods that are higher in sodium. When you prepare your own food, you control what goes into it."
Other diet-related pointers include using spices, herbs, and sodium-free seasonings in place of salt, and checking for sodium on the Nutrition Facts label of food packages.
"A Daily Value of 20 percent or more means the food is high in sodium," the NIDDKD says. "Try lower-sodium versions of frozen dinners and other convenience foods. Rinse canned vegetables, beans, meats, and fish with water before eating. And look for food labels with words like sodium free or salt free; or low, reduced, or no salt or sodium; or unsalted or lightly salted."
The Institute says early treatment can help protect kidneys, as people with early kidney disease usually have no symptoms.
"Which is why it's important for people who have diabetes or high blood pressure to get tested. To help prevent heart attacks and stroke, keep your cholesterol levels in the target range."
Key questions for your health care provider are:
• What is my glomerular filtration rate (GFR)?
• What is my urine albumin result?
• What is my blood pressure?
• What is my blood glucose (for people with diabetes)?
• How often should I get my kidneys checked?
Other important questions at ask include:
• What should I do to keep my kidneys healthy?
• Do I need to be taking different medicines?
• Should I be more physically active?
• What kind of physical activity can I do?
• What can I eat?
• Am I at a healthy weight?
• Do I need to talk with a dietitian to get help with meal planning?
• Should I be taking ACE inhibitors or ARBs for my kidneys?
• What happens if I have kidney disease?
The National Kidney Foundation helps in prevention and awareness of kidney disease with its community-based initiative, KEEP. The program educates the public about the kidneys, risk factors for kidney disease, and steps to take to keep kidneys healthy and reduce risk.
The KEEP Healthy Check-up includes a risk survey, Body Mass Index (BMI): height and weight measurements, blood pressure check, an ACR urine test for albumin (a type of protein) for individuals at risk only, free educational materials, and an opportunity to speak with a healthcare professional. The National Kidney Foundation says these individuals may be at an increased risk for kidney disease:
• Anyone with high blood pressure, diabetes
• Anyone with a family history of kidney failure
• African-Americans, Hispanics, Asians, Pacific Islanders and American Indians
• Anyone age 60 and older
• Individuals who are obese (body mass index of 30 or above)
If you think you may be at risk, visit your doctor, share what you've learned about your risk factors for kidney disease and follow healthy lifestyle advice. If you have any questions, call our NKF Cares patient hotline toll-free at 1-855-NKF-Cares (653-2273).
Visit kidney.org for more information.
For more information from the National Institute of Diabetes and Digestive and Kidney Diseases, click here.
The professionals at Great Care are available to talk with you and your family about all of your home care needs, including respite care. Great Care is a non-medical in-home care agency providing quality and affordable elder care in Fishers, IN and the surrounding areas. Call (888) 240-9101 for more information.