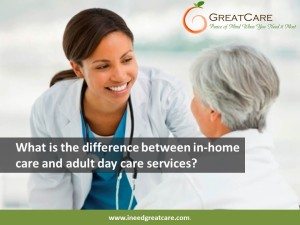 At Great Care, we understand caregiving is one of the most important, and often toughest, jobs in the world. That's one of the reasons our Care Compass customized services are so crucial to each and every family transitioning to in-home care for loved ones.
"It's a huge change in life, especially as parenting a parent becomes a sudden reality for so many," says Great Care founder and CEO Julie Sullivan. "Sometimes a family's needs can be as straight-forward and necessary as daytime hourly care to help caregivers who still have day jobs and families of their own who need their presence. Other times, they need more. We understand those needs and complexities."
Great Care's Care Compass helps families create a personalized services care plan for in-home care. This can include morning and evening tuck-ins at three hours each, 12 hours of overnight care, or 24-hour, round-the-clock care. These services provide comprehensive reporting and coordination, which gives families much-needed peace of mind. Such assurance is crucial to help family caregivers, as well as those in need of care, cope with and adjust to the ever-changing landscape of caregiving. Best of all, families and caregivers aren't left to guess or wonder, and are active in decision-making.
In his family's caregiving journey, Robert Hagemier was comforted to know the Great Care team generated a deserved level of trust, and was always helpful and competent in caring for his loved one.
"That reassured the family, as well as provided an excellent level of service that made difficult periods in the life of our loved one manageable for the family," he said. "That provides superior care to those you serve."

The benefits of such trust and reliability are impactful to families as they decide the role of caregiving for their loved ones. The National Council for Aging Care notes that most, if not all, seniors would rather live at home, if given the choice.
"That is mostly because this sort of arrangement gives them the kind of freedom and independence to which they have grown accustomed," the Council says. "It also has the added advantage of keeping them within familiar surroundings, which is excellent for seniors who are slowly losing the gift of sight and might be suffering from degenerative brain diseases such as Alzheimer's."
According to the National Council for Aging Care, in-home care for seniors has its advantages, including:
The senior gets personalized care
The senior gets a companion
They get help with their day-to-day chores
They get help with personal hygiene
They have someone to help them stay on top of their medication and dietary needs
They get to stay at their home which is a familiar environment
They get to keep their independence
They are cared for by a qualified professional (often a licensed nurse)
The Council is quick to note that cost is often the major deciding factor in whether in-home care services can work. Which is why the Care Compass can be so helpful in customizing a family's caregiving needs.
"As you can imagine, there is discussion about just how affordable the cost of care really is and how many people can afford it," says the National Council for Aging Care. "We try to break down the cost of in-home senior care and show that it is not as expensive as most people tend to think it is at all and is much cheaper than respite care in a nursing home or receiving residential care …  As mentioned, the amount you might pay for your in-home care will greatly depend on the number of hours spent by the care worker at your home as well as the supplies necessary to make you comfortable."
Great Care agrees.
For more information on Care Compass, including daytime hourly care, as well as two complimentary hours of crisis and legal guidance, and family, payment and residential planning, contact Great Care by clicking here.
The professionals at Great Care are available to talk with you and your family about all of your home care needs, including respite care. Great Care is a non-medical in-home care agency providing quality and affordable elder care in Fishers, IN and the surrounding areas. Call (888) 240-9101 for more information.