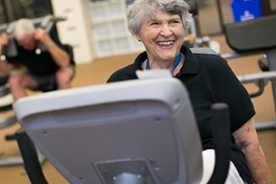 Protecting your health as you grow older is one message the U.S. Department of Health & Human Services' National Institute on Aging wants people to remember as the population ages. Great Care is a proponent of encouraging seniors to lead a healthy lifestyle.
The National Institute on Aging reminds seniors that they can take steps to stay healthy and independent as you they grow older. According to the NIA, it's important to:
• Choose healthy foods
• Get enough sleep
• Talk to your doctor about any health concerns
• Take steps to prevent accidents
The NIA also suggests keeping body and mind active as we age.
"Remember, it's never too late to make healthy changes in your life," the Institute says. "Stay active to live longer and better. Regular physical activity can help you."
The National Institute of Aging also suggests reduce risk for type 2 diabetes, heart disease, stroke, and some cancers by eating well, getting exercise and avoiding tobacco use. Stay healthy by avoiding falls and other injuries. Also:
• Live on your own longer
• Improve your mood
• Feel better about yourself
• Improve your ability to think, learn, and make decisions
• Learn more about staying healthy as you get older
As part of the National Institute on Aging's Go4Life initiative, the NIA recommends everyday endurance activities that help seniors become more active, get the most from your activities, and do them safely.
"The key is to know your starting point and build slowly from there," says Go4Life. "Knowing where you are right now will help you pick activities that are realistic for you so that you can be successful."
Go4Life says to think about a typical weekday and weekend day, and ask yourself, "How much time do I spend sitting? How much time am I active?" And when you're up and moving, what kinds of activities are you doing?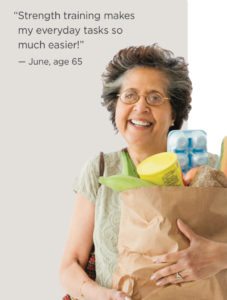 Some of the everyday endurance, balance and flexibility activities the NIA suggests are:
• Keep up with your grandchildren during a trip to the park.
• Dance to your favorite songs at the next family wedding.
• Rake the yard and bag up the leaves.
• Lift your carry-on bag into the overhead bin of the airplane.
• Carry groceries in from the car.
• Pick up bags of mulch.
• Turn around quickly when you're on a walk and hear a bicycle bell behind you.
• Walk along a cobblestone path without losing your balance.
• Stand on tiptoe to reach something on a top shelf.
• Bend down to tie your shoes.
• Stretch to clean hard to reach areas of the house.
Sign up for My Go4Life and use the interactive My Starting Point tool to figure out your current activity level. For a couple of weekdays and a weekend, keep track of how much time you exercise or are physically active. Record how much time you spend doing each activity. You can also print a blank activity log, if you'd like to fill one in by hand.
Use the last column of the My Starting Point interactive tool to write down ways you think you can increase your daily activities. If you're not active yet, aim for a modest beginning and build from there. If you are already pretty active, then you can be more ambitious about adding to your activities.
The professionals at Great Care are available to talk with you and your family about all of your home care needs, including respite care. Great Care is a non-medical in-home care agency providing quality and affordable elder care in Fishers, IN and the surrounding areas. Call (888) 240-9101 for more information.