E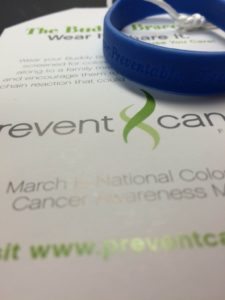 ach March, the Prevent Cancer Foundation shares information important to Great Care caregivers, patients and partners regarding colorectal cancer prevention.
As the third most frequently diagnosed cancer in both men and women and the second leading cause of cancer deaths in the U.S., colorectal cancer is widespread. This year, the the Prevent Cancer Foundation reports more than 135,000 people will be diagnosed with colorectal cancer and more than 50,200 will die of the disease.
Along with early detection and preventative care, awareness of the risks and symptoms can help change some of the cancer's staggering statistics. Risk factors include:
• Being 50 or older
• Smoking or tobacco use
• Obesity/being overweight (especially carrying fat around your waist)
• Not being physically active
• Drinking alcohol in excess (especially men)
• Eating red meat, such as beef, pork or lamb, or processed meat, such as bacon, sausage, hot dogs or cold cuts, in excess
• Personal or family history of colorectal cancer or benign (not cancerous) colorectal polyps
• Personal or family history of inflammatory bowel disease, such as ulcerative colitis or Crohn's disease
Prevention includes being physically active for at least 30 minutes at least five days a week; maintaining a healthy weight and waist size; not smoking; limiting alcohol to no more than one drink per day if you're a woman or two drinks per day if you're a man; eating more fruits, vegetables and whole grains (great sources of fiber); eating less red meat and cut out processed meat; and screening according to guidelines.
"With certain types of screening, this cancer can be prevented by removing polyps (grape-like growths on the wall of the intestine) before they become cancerous," says the foundation. "Several screening tests detect colorectal cancer early, when it can be easily and successfully treated."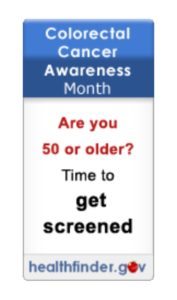 The U.S. Department of Health and Human Services says we can all make a difference during Colorectal Cancer Awareness Month in March. The department offers a tool kit to help spread the word on the healthfinder.gov page.
"We can use this month to raise awareness about colorectal cancer and take action toward prevention. Communities, organizations, families, and individuals can get involved and spread the word," says the department. "The best way to prevent colorectal cancer is to get screened regularly starting at age 50. There are often no signs or symptoms of colorectal cancer – that's why it's so important to get screened."
The U.S. Department of Health and Human Services suggests these ideas for promoting colorectal cancer awareness:
• Encourage families to get active together – exercise may help reduce the risk of colorectal cancer.
• Talk to family, friends, and people in your community about the importance of getting screened for colorectal cancer starting at age 50.
• Ask doctors and nurses to talk to patients age 50 and older about the importance of getting screened.
For more information about colorectal cancer, visit www.PreventCancer.org.
The professionals at Great Care are available to talk with you and your family about all of your home care needs, including respite care. Great Care is a non medical in-home care agency providing quality and affordable elder care in Fishers, IN and the surrounding areas. Call (888) 240-9101 for more information.