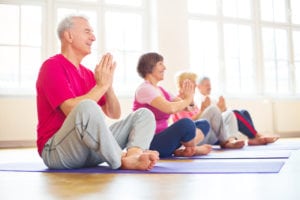 August is National Wellness Month, when Great Care encourages self-care with an emphasis on a healthy lifestyle. For caregivers, these are important steps to help manage stress and boost happiness.
"Whether you challenge yourself to a new yoga pose or try a different spa treatment, make a small change and impact your health in positive ways," says the online resource wellnessmonth.com, which provides a calendar of daily challenges for small ways to be well each day, leading to a lifetime of wellness.
Live Love Spa founded National Wellness Month in 2018 to foster community, connection, and commerce in the wellness industry.
"National Wellness Month inspires consumers to focus on wellness and provides a platform for wellness companies to highlight their services and benefits," says Live Love Spa.
The National Center on Caregiving agrees that self-care and wellness are integral practices to help caregivers best care for their loved ones. Stress management is key.
The nonprofit offers these suggestions to managing stress:
"Recognize warning signs early. These might include irritability, sleep problems, and forgetfulness. Know your own warning signs, and act to make changes. Don't wait until you are overwhelmed.
Identify sources of stress. Ask yourself, "What is causing stress for me?" Sources of stress might be that you have too much to do, family disagreements, feelings of inadequacy, or the inability to say no.
Identify what you can and cannot change. Remember, we can only change ourselves; we cannot change another person. When you try to change things over which you have no control, you will only increase your sense of frustration. Ask yourself, "What do I have some control over? What can I change?" Even a small change can make a big difference. The challenge we face as caregivers is well expressed in the following words modified from the original Serenity Prayer (attributed to American theologian Reinhold Niebuhr):"God grant me the serenity to accept the things I cannot change,
Courage to change the things I can,
and (the) wisdom to know the difference."
Take action. Taking some action to reduce stress gives us back a sense of control. Stress reducers can be simple activities like walking and other forms of exercise, gardening, meditation, or having coffee with a friend. Identify some stress reducers that work for you."
Others ways to self-care and manage stress include a spa day with massage, yoga, facials and soaking in therapy baths. Also, going to the library for quiet reading or getting out in the peacefulness of nature.
The professionals at Great Care are available to talk with you and your family about all of your home care needs, including respite care. Great Care is a non-medical in-home care agency providing quality and affordable elder care in Fishers, IN and the surrounding areas. Call (888) 240-9101 for more information.