Every summer, Great Care loves to celebrate the peach. The furry fruit is a perfect pairing with light, heart-healthy summer dishes, with only 34 calories in a medium-sized peach.
Peaches are high in Vitamin C and low in cholesterol, sodium, and saturated fat. They are a great source of dietary fiber, Vitamin A, niacin and potassium.
Fun fact: The world's largest peach cobbler, measuring in at 11 feet by 5 feet, is handmade every year in Georgia, also known as the Peach State. That cobbler measures 11 feet by 5 feet. The Georgia Peach Council offers these delicious Gena Knox recipes for the peach lover in you or the ones you care for: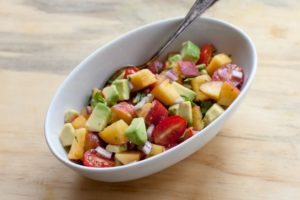 This Peach and Avocado Salsa is light and healthy, and can be served with tortilla or pita chips or as a topping for grilled fish, steak, chicken, or pork.
Prep time: 10 minutes. Yields about 3 cups
Ingredients
2 cups peeled and chopped peaches
1 avocado, diced
½ cup grape tomatoes, halved
2 tablespoons fresh cilantro, chopped
2 tablespoons lime juice
1. In a medium bowl, combine peaches, avocado, tomatoes, cilantro, and lime juice.
2. Season with salt to taste and serve.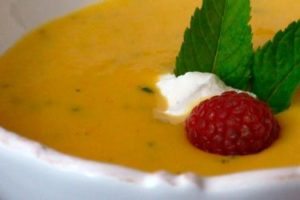 "In the south we have ways of incorporating peaches into every course. This soup can be a starter, side dish, or even dessert and the taste is absolute heaven," says the Georgia Peach Council, about this Chilled Peach Soup recipe.
Yields 4 cups.
Ingredients
4 cups fresh peaches, peeled and sliced (about 5 medium peaches)
1 cup white wine (such as pinot grigio)
1 cinnamon stick (3-inch)
1/8 teaspoon cardamom
2 tablespoons honey
juice ½ lemon
6 ounces plain yogurt
¼ teaspoon vanilla extract
fresh mint for garnish
1. In a medium saucepan, combine peaches, wine, cinnamon, and cardamom over medium-high heat. Bring to a boil, reduce heat, cover, and simmer for 10 minutes or until peaches are soft.
2. Remove peaches from heat and let cool slightly. Puree in food processor or blender until smooth. Add honey, lemon juice, yogurt, and vanilla and pulse until smooth. Thicken with additional yogurt if desired.
3. Refrigerate until chilled. Ladle into bowls, garnish with fresh mint, and serve.


This Grilled Chicken With Pretty Peach Sauce recipe from WebMD by Elaine Magee, MPH, RD, makes for a light and juicy dinner with a fruity spin.
Ingredients
1/2 cup orange juice
3 tablespoons lime juice
2 tablespoons olive oil
1 cup peaches, diced
6 tablespoons red pepper, diced
6 tablespoons red onion, minced
6 tablespoons fresh cilantro, chopped
1 teaspoon balsamic vinegar
4 chicken breasts, boneless, skinless; (about 24 ounces raw)
1 teaspoon olive oil
1. First start the marinade: Add orange juice, lime juice, and olive oil to medium sized bowl and stir.
2. Put peaches, red pepper, red onion and cilantro in a small bowl and toss to blend. Add half of this mixture to a small food processor and pulse briefly (4 seconds) to chop and blend. Add the pureed mixture to the orange-lime marinade.
3. Add balsamic vinegar to the remaining peach mixture in the small bowl. Cover and place in refrigerator until chicken is ready. This will be your peach sauce.
4. Add the chicken breasts to the orange-lime marinade, cover well with the marinade. Refrigerate for at least 1 hour, up to 8 hours.
Preheat grill. Lift chicken from marinade and grill until cooked throughout. Place on serving plate to rest a few minutes.
5. Meanwhile, preheat a small, nonstick frying pan over high heat. Brush the bottom of the hot pan with a teaspoon of olive oil. When the oil is good and hot, add the peach mixture from the refrigerator and sauté for exactly 1 minute. Serve each chicken breast with a spoon of the peach sauce over the top.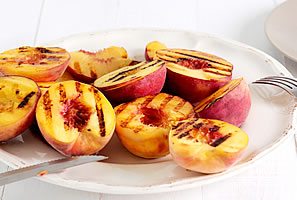 The American Diabetes Association provides great summer dessert ideas to help keep sugars low and taste high. This easy, low-calorie recipe for Cinnamon Maple Grilled Peaches, from "Sizzle & Smoke" by Chef Steve Petusevsky, shows desserts can be grilled, too. The recipe only has 75 calories and offers 2 grams of dietary fiber. Dress up this simple dish by garnishing it with some fresh mint leaves.
Serves 4.
Ingredients
4 peaches or nectarines, still firm but ripe
Juice of 1 lemon
1/2 teaspoon cinnamon
1/8 teaspoon nutmeg
1 tablespoon maple syrup
1. Preheat grill to medium high.
2. Cook for 3-4 minutes, turning once, until golden brown on the outside, and just warmed through inside.