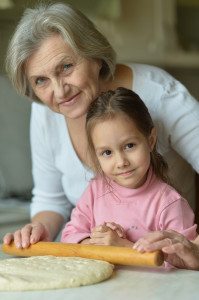 April is National Pecan Month and it's also a great time to bake some pies. If you're looking for some type of elder care activities, and if you're just waiting around for the weather to turn nice, then you might be willing to help the elderly individual spend a few hours inside, making a nice pecan pie.
Pecan pie is commonly a favorite dessert for Thanksgiving and even Christmas and other end of the year holidays, but it's also a good dessert that anyone can make during the warmer spring weather. The great thing about pecan pie, for example, is that it's always in season and with April being a month when people honor pecans, why not consider this as an activity that you, or anyone else, can do with someone who requires elderly home care.
Even if you don't provide assistance to an elderly individual who requires some form of elderly home care, that doesn't mean you can't take advantage of this month's recognition. Maybe you have an elderly neighbor who doesn't have a lot of visitors. Maybe you know that his or her family lives some distance away and they don't spend a lot of time visiting with them. Perhaps you've noticed that someone stops by to check on them every day and you've always been friendly and cordial with him or her through the years. You might be able to brighten his or her day with a nice pecan pie. Of course, you'd want to make sure that they are not allergic to any type of nuts before doing so.
What does it take to bake pecan pie? You could either start from scratch (maybe the senior is gifted with baking and can create the most exquisite crusts and pies you've ever tasted) or you can buy pre-made pie crusts. You would need pecans, of course (but you can replace pecans with any other type of food that you think would be good in a pie), and the rest of the ingredients.
Pie recipes abound across the Internet. The idea here is not to give you a recipe, as those can be gleaned anywhere, but to get you thinking about an activity to do with a person who requires elder care this April. The weather will turn warmer, but for much of the country winter is stubbornly sticking around. Why not spend a few hours working with the senior baking a pie that is sure to spice up the home?
The caregivers at Great Care are available to talk with you and your family about all of your elder care needs. Great Care is an elder care agency providing quality and affordable elder care in Carmel, IN and the surrounding areas. Call (317) 595-9933 for more information.