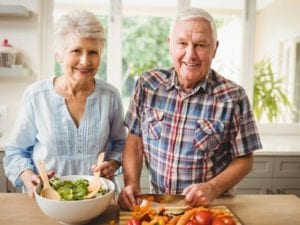 Sure, pumpkin spice is nice for fall-themed food and drink, but at Great Care we also think a healthy variety of comfort fruits and veggies is the way to go this autumn. Especially since these nutritious and delicious autumn produce favorites are in this harvest season:
Apples
Beets
Brussels sprouts and cabbage
Cranberries
Persimmons
Pomegranates
Pumpkins
Squash
Sweet Potatoes
Turnips
And that's just to name a few. Also, the entire cruciferous family, featuring cabbage, cauliflower and rutabaga, are in-season. Swiss chard, grapes, broccoli, leeks, mushrooms, figs and pears are also stocked and affordable in October. We definitely can't get enough of gourds in the fall, especially since they're loaded with healthy alpha- and beta-carotene to help reduce cancer risk and promote good vision.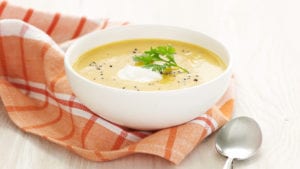 This recipe for creamy and comforting Roasted Butternut Squash Soup, courtesy American Heart Association and Chobani, is Heart-checked Certified (using Greek yogurt), chocked full of fiber, and serves as the perfect antioxidant as flu season kicks in now.
Ingredients
1 1/2 cups fat-free, plain Greek yogurt
1 butternut squash, about 2 ½ lbs
1 tablespoon extra virgin olive oil
2 cups Vidalia onion (peeled, chopped)
2 fresh garlic cloves (chopped)
1 teaspoon fresh thyme (chopped)
1 bay leaf
1 quart water
1 pinch nutmeg
1 1/4 teaspoon Kosher salt
1/2 teaspoon black pepper
Directions
Preheat oven to 400°F convection.

Cut squash lengthwise and remove seeds with a spoon. Season both squash halves with 1 tsp. of extra virgin olive oil and ½ tsp. salt. Wrap in foil and place in baking tray or dish.

Roast squash halves for 1 hour or until fork tender. Remove from oven and let cool enough to handle. Remove skin from the squash and set aside.

Place remaining 2 tsp. of extra virgin olive oil, onion, carrots, garlic, bay leaf, thyme, and 1 tsp. of salt in a pot on medium heat. Cook, stirring regularly, until onions are translucent and carrots are tender, about 10 minutes. Add 1 quart of vegetable stock and roasted squash, and cook on a low simmer for 30 minutes with the lid on. Remove bay leaf from soup. Place soup mixture into a blender with remaining 1 tsp. of salt, nutmeg, black pepper and ½ cup non-fat Greek yogurt. Blend on high until smooth, about 1 minute. Portion into 6 bowls, divide 1 cup of yogurt into dollops on top of each soup and serve immediately.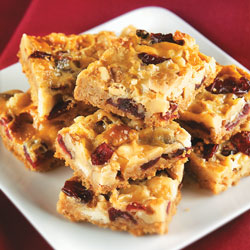 These
Cranberry and White Chocolate Treats
from the American Diabetes Association's  "Diabetes Forecast" magazine are low fat (only 2g) and low calorie (67 per square), and will be a hit at this season's hay rides, bonfires, and Halloween and pumpkin-carving parties.
Ingredients
1 1/3 cups low-fat graham cracker crumbs
2 Tbsp sugar
5 Tbsp butter, melted
1/2 cup dried cranberries
1/3 cup white chocolate chips
1/3 cup chopped walnuts
1/2 cup natural wheat and barley nut-type cereal
1 (14 oz) can fat-free sweetened condensed milk
Directions
Preheat the oven to 350°F.
In a 13- x 9- x 2-inch baking pan, combine graham cracker crumbs, sugar and butter, and press along the bottom of the pan. Sprinkle cranberries, white chocolate chips, walnuts, and cereal evenly over the graham cracker crust.
Pour the condensed milk over the top and bake for 20 to 25 minutes, or until bubbly. Cut into squares to serve.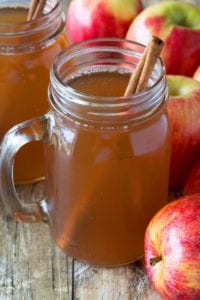 We all know the saying, "An apple a day keeps the doctor away," and that daily servings of fruits and veggies are vital for a well-balanced diet. Lucky for us, this autumn-inspired recipe for Spiced Apple Cider from Health.com helps us stay healthy, made easy.
"This tangy, fat-free beverage is ready in just 20 minutes. Cinnamon gives this hot drink a fragrant flavor and has the added health benefits of preventing blood clotting and controlling blood sugar," says Helath. "Enjoy as a delicious spirit for a winter party or omit the alcohol and enjoy in the afternoon with the kids."
Ingredients
Lemon rind strips (from 1 lemon)
1 tablespoon fresh lemon juice
1 gallon apple cider
2 tablespoons light brown sugar
20 whole cloves
5 (3-inch) cinnamon sticks, halved
1/8 teaspoon ground allspice
1/8 teaspoon ground nutmeg
Additional cinnamon sticks (optional)
Optional spiked cider option: 1/2 cup Calvados (apple brandy) or applejack (such as Laird's)
Directions
1. Bring first 8 ingredients to a boil in a large Dutch oven. Reduce heat; simmer 20 minutes.
2. Pour mixture through a sieve over a large bowl, reserving liquid; discard solids. Stir in brandy (optional). Serve in mugs; garnish with additional cinnamon sticks, if desired.
Bon appetite, and cheers to fall! 🍁
The professionals at Great Care are available to talk with you and your family about all of your home care needs, including respite care. Great Care is a non-medical in-home care agency providing quality and affordable elder care in Fishers, IN and the surrounding areas. Call (888) 240-9101 for more information.