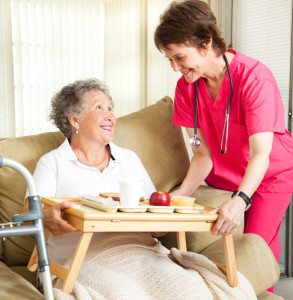 Nutrition and diet are very important as your senior parent continues to age. They need all the physical strength they can get to continue to feel energized and happy for many more years. Soups are really good for elderly people because of the warm, hydration from the broth, and mix of flavors. You can get even the pickiest eater to consume more veggies with a great tasting soup like one of these below.
Remember that your caregiver or elderly home care can help with meal planning. They know a lot about senior nutritional needs and can cook for your parent. Share these soup recipes with the caregiver to try with your parent. You can ask your mother or father if they have any favorite soups or vegetables that you can incorporate more into their diet. It helps if they are willing to eat it or try something new if it has parts that they know they like. Here are two great recipes:
Try These Recipes:
Savory Beet Soup
1 tsp. olive oil
1 cup chopped onion
4 cups low-fat, reduced sodium chicken broth
2 cups water
½ tsp. salt
¼ tsp. black pepper
3 med. Beets, peeled and halved
1 med. Potato, peeled and chopped
1 bay leaf
1 tsp. lemon juice
8 tsp. low fat sour cream
Heat the olive oil in a Dutch oven over medium heat and sauté the onions for 3 minutes or until tender. Add the chicken broth and all other ingredients except the lemon juice and sour cream. Bring to a boil and then reduce heat, simmer about 20 minutes or until potato is tender. Discard the bay leaf.
Put 1/3 of the broth in a food processor and blend until smooth. Put into a large bowl and repeat with rest of soup. Pour everything back into the pan and warm it for about 5 minutes. Remove from heat and stir in lemon juice. Top with sour cream.
Barley Vegetable Soup
1 large sweet potato, peeled and diced
1½ cups carrots, chopped
1½ cups frozen green beans
1½ cups frozen corn
3 celery ribs, sliced finely
1 small onion, minced
½ cup chopped green pepper
2 minced garlic cloves
6 cups water
2×14 oz. cans of vegetable broth
1 cup pearl barley
1 bay leaf
1 ¾ tsp. salt
½ tsp. fennel seed, crushed
¼ tsp. pepper
1×14 oz. can diced tomatoes
Put the first eight ingredients into a 5-qt. slow cooker and then stir in the water, broth, barely, bay leaf and seasonings. Cover and cook on low 8-10 hours or until the vegetables and barley are tender. Then stir in the tomatoes and cook on high for 10 or 20 more minutes. Discard the bay leaf and serve.
The caregivers at Great Care are available to talk with you and your family about all of your elder care needs. Great Care is an elder care agency providing quality and affordable elder care in Brownsburg, IN and the surrounding areas. Call (317) 595-9933 for more information.