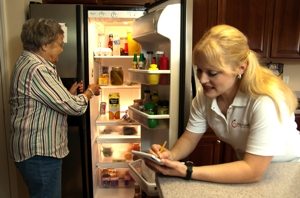 Do you need some quick and easy ideas for breakfast? Some mornings it's just too much of a rush to try and cook something and cold cereal just doesn't sound appealing after eating it for days in a row. What you need is some variety and yet something very quick. Here are some recipes for quick and easy breakfasts that can be prepared by your senior loved one's elder care provider.
Use a bowl or tall glass and layer yogurt, granola, fresh fruit and cereal. You can also use thawed, frozen fruit. If all the ingredients are in the fridge it only takes one or two minutes to make several. If you don't want to be fancy, just put yogurt in a bowl, top with fruit pieces and sprinkle with granola. Breakfast is ready!
Make muffins the night before. Warm up a muffin while you make hot chocolate.
Make a green smoothie with some healthy ingredients like spinach and avocado. Just blend it up and it's ready. You can find hundreds of delicious smoothie recipes online.
If you have time to make scrambled eggs, wrap them up in a soft tortilla shell with salsa and cheese and you can eat breakfast on the go!
Open an English muffin, put some thinly sliced apple pieces on top, cover with some cheese and warm long enough to melt cheese. Breakfast is ready and portable if necessary.
Make waffles the day before so you can just heat them up in the toaster.
A fruit smoothie. Similar to the green smoothie except packed with raspberries, blueberries and more.
If you have 10 minutes, poach some eggs while you toast some English muffin halves. Cover each toasted muffin half with a tomato slice and then a poached egg on top. Yummy and filling breakfast ready in only 10 minutes.
Make some banana loaves ahead of time. When cooled, cut into ½ inch thick slices. Wrap separately and freeze. These can be taken out one at a time and thawed overnight for a quick breakfast. If you forget to take them out, take a frozen one out in the morning and unwrap it. Pop it in the toaster or toaster oven until thawed and slightly warmed. This should only take a couple of minutes. Melt butter on top and enjoy.

Blend together oats,

frozen bananas and a little milk and honey for a banana-oat smoothie. You'll be getting your bowl of oatmeal in a different way.
Elderly loved ones can reach the stage in life where making nutritious meals just becomes too difficult for them, yet they need to continue eating a healthy diet. Consider elderly home care to help them with the everyday tasks like cooking and cleaning up.
The caregivers at Great Care are available to talk with you and your family about all of your home care needs. Great Care is an elder care agency providing quality and affordable elder care in Brownsburg, IN and the surrounding areas. Call (317) 595-9933 for more information.