It isn't good for an elderly person to sit in a chair all day watching TV. There are many benefits to being involved in recreational activities, at any age. From youth to senior age, recreational activities provide one or more benefits to mental and physical and social health and well-being. Family caregivers and elderly home care providers can look for local senior activities for their loved ones to participate in.
Examples of recreational activities for seniors
Bingo game
Music with or without dancing
Card games
Board games
Light aerobics
Yoga for seniors
Cultural celebrations
Leisurely walks
Swimming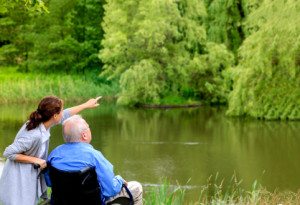 Benefits of recreation
Outside activities provide fresh air and sunshine in moderation
Physical exercise helps promote flexibility
Physical activity keeps the muscles stronger
Mental activity sharpens the mind and exercises memory skills
Social activity combats isolation and depression and promotes emotional well-being
Fights boredom
Recreational activities are usually enjoyed with one or more other people, and socializing is an important human need. There are also therapeutic benefits of participating in recreational activities. Moving the body and challenging the mind stimulates the whole being. Self-esteem and confidence are increased, friendships are formed, and the will to live and enjoy life is strengthened.
Physically, blood circulation is stimulated, oxygen flows more easily throughout the body and the person feels like they have more energy of life. There should be a good balance of recreational activities that focus on different areas.
For example, a bingo game promotes social interaction and a little brainwork. A card game also promotes socialization, and perhaps more memory and brain stimulation in trying new strategies within the game.
Yoga for seniors could be social but it mostly quiet, so the benefits are increased flexibility, balance, blood circulation. A game of scrabble on the other hand has very little physical movement but challenges memory, concentration and thinking skills.
If your loved one is avoiding recreational activities because they don't know anyone, go with them a time or two until they start meeting new groups of friends. Pretty soon they will look forward to going so they can chat with their new friends and enjoy the companionship of the activity.
Having fun and enjoyable activities to look forward to also gives the elderly adult something to occupy their mind. Even seniors who are in wheelchairs can find a variety of activities they can participate in. There are great aerobics classes made for seniors where they can use their arms and upper bodies to participate in the exercises set to music.
There is something for everyone. If you don't see the kind of activity your senior would be interested in, maybe you could start one and invite other seniors to participate with you.
The caregivers at Great Care are available to talk with you and your family about all of your senior care needs. Great Care is an elder care agency providing quality and affordable senior care in Brownsburg, IN and the surrounding areas. Call (317) 595-9933 for more information.