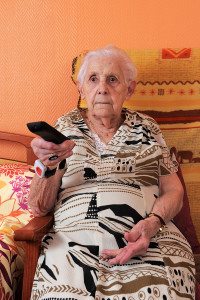 American senior citizens spend more time watching television than any other age group. Research has shown that the more hours seniors spend in front of the television each day, the more they increase their risk of dying earlier from cardiovascular disease or another health condition. Elder care doesn't have to eliminate television from a senior's daily routine but it should be limited to 2 or 3 hours a day.
The human body remains healthiest when a person is active. Much of today's technology is designed to accommodate sitting limiting a person's mobility. Television (sitting) is the most common inactive activity seniors do in their home that can prove to be detrimental to their health if not monitored.
There are some benefits to television if done in considerable moderation that include:
Entertainment and laughter – we all have heard the expression "laughter is the best medicine."
Providing information about people, places, what is going on in the world, the weather, healthy meals, exercising, and step-by-step procedures on how-to do or make a specific project.
Bonding with family and friends over a good movie is fun and encourages social interaction.
Some of the negative effects of watching too much television include:
Laziness – people get so caught up in their programs that they forget to leave time for other health activities.
Overeating – people who watch a lot of television tend to eat unhealthy and to eat more often. This can cause a person to become overweight or obese resulting in other health related ailments. Even someone who falls in the proper weight range is at risk for other medical conditions because sitting for long periods of time has a negative effect on the blood sugar and blood fats in the body.
Elderly home care providers should plan the day in advance and get on a daily routine. Depending upon the extent of mobility a senior has will determine the amount of physical activity a person can handle. A few hours of television each day broken up in between activities or exercise will not be harmful. However, sitting all day in front of the television, when they are in a condition where mobility is not limited, is hazardous to their health.
Quality elder care should consist of a mixture of nutritional meals, exercise, mental and physical stimulation, and allow a few hours for television.
The caregivers at Great Care are available to talk with you and your family about all of your senior care needs. Great Care is an elder care agency providing quality and affordable senior care in Zionsville, IN and the surrounding areas. Call (317) 595-9933 for more information.