An important element of elder care is making sure that your aging loved one gets the proper nutrition that he needs on a daily basis. One of the key nutrients that he will need in order for his body to function properly and to maintain his ongoing health is fiber. Fiber is a critical nutrient for supporting healthy digestion, healthy cholesterol and healthy weight.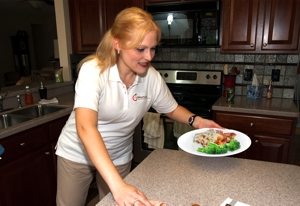 There are many ways to get additional fiber into your aging loved one's diet. Anyone providing elderly home care knows that the palate of an elderly person tends to be very different from that of a younger person, particularly because aging people tend to experience weakness in the senses of smell and taste. These we can senses make it more difficult for your aging loved one to enjoy food, which can make it hard for them to get all of the nutrients that they need. Nutrition is a critical part of elder care, and as a care provider you need to be able to encourage your aging loved one to get all of the nutrients that he needs on a regular basis.
Some of the best ways to get fiber into a diet include:
Eating plenty of fresh fruits and vegetables. Cooked or juiced fruits and vegetables do not contain the same amount of fiber as their raw counterparts, so provide seasonal produce as a snack or as a complement to breakfast and lunch
Eating a whole grains as opposed to process flour products
Adding fiber powder to beverages, sauces or other soft foods
Adding a fiber supplement tablet or wafer daily
Beans and legumes. These make a fantastic complement to salads, soups, stews, chili and turned into dips and spreads
Many caregivers have found the fiber powder option an extremely useful tool in helping particularly picky seniors get the fiber that they need on a regular basis. Fiber powder comes with no flavoring, which means that it can easily be incorporated into any liquid or soft food. Look for the fiber powder options that do not gel so that they don't change the texture of the consumable that it is integrated into, and offer one or two doses a day in your aging loved one's regular meals.
The caregivers at Great Care are available to talk with you and your family about all of your senior care needs. Great Care is an elder care agency providing quality and affordable senior care in Zionsville, IN and the surrounding areas. Call (317) 595-9933 for more information.