As adults move through the stages of life, many adults notice that their nutritional needs change. As people age, they do not need to eat as much as they did when they were younger. Reduced activity levels and metabolic changes mean that many seniors do not need to eat large meals throughout the day. Elderly care providers who are still trying to prepare and feed their loved ones huge meals may often be discouraged to see significant amounts of food left behind. It is important for elderly care providers to know that their loved ones have very different nutritional needs than younger adults, teens, and children.
Sources for Information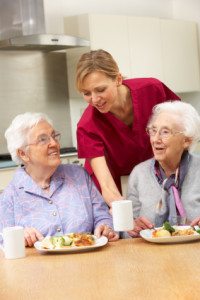 The Food and Drug Administration is responsible for informing the public about their dietary needs. The country has been exposed to many different forms of information about proper dietary needs, including variations on the food pyramid, My Plate, and other recommendations. The FDA regularly releases dietary information for people of all ages and even for seniors. For elder care providers who are not aware of what seniors should eat on a daily basis, this is the recommended intake for seniors over the age of 50:
 1.5 to 2.5 cups of real fruit: A small peach is a half of cup of fruit.
2 to 3.5 cups of vegetables: A big salad of leafy greens is about the equivalent of a cup of chopped veggies.
5 to 10 ounces of whole grains: an ounce of grains is a regular slice of bread
5 to 7 ounces of protein: A good source of protein includes eggs, which is about an ounce. A tablespoon of peanut butter is also considered an ounce of protein.
3 cups of milk. Seniors no longer need to drink whole milk. They should drink 2% or skim milk.
5 to 8 teaspoons of oils: If you prefer to avoid oils, using olives or avocados are good replacements.
It is important to recognize that the FDA does not suggest eating any type of sugar or processed high fat foods. These end up becoming empty calories that do not help seniors with any aspect of their lives.
In many cases, seniors do not receive the right nutrients in the diets. This is not always the fault of the elderly care provider, but the cause is often due to health problems and eating habits. Many seniors do not have major malnutrition issues, but they do frequently have problems due to loss of appetite and basic wellness issues. Seniors need to regularly eat foods that contain vitamins A through E as well as folic acid, too. Seniors can take multivitamins, especially since there are many designed especially for men and women over the age of 50.
The caregivers at Great Care are available to talk with you and your family about all of your senior care needs. Great Care is an elderly care agency providing quality and affordable senior care in Brownsburg, IN and the surrounding areas. Call (317) 595-9933 for more information.