When it comes to elderly care, diet and nutrition are essential. As we age, our bodies require a different level nutrition, more vitamins for example, and that means we need to focus more on what we eat, how to provide our body with the proper nutrition, and maintaining high energy levels. Certain foods can help resist infections, diseases, and can even allow us to recover from injuries quicker.
Eating properly can also have a direct impact on our emotional health. If we eat a proper diet, we may have a more positive outlook and be able to stay emotionally balanced. An important thing to consider with regard to diet and nutrition for elderly care is that you don't have to sacrifice taste to get the proper level nutrition. No matter what age you are talking about, it's about fresh food, colorful foods, being creative in the kitchen, and especially eating with family and friends.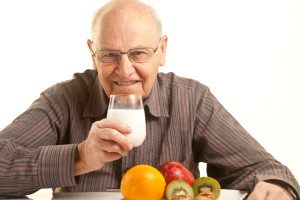 The Friendship Factor
How often do you think your mother or father eats alone during the week? For most of us, our lives are hectic and we are constantly running around trying to get things done. We don't tend to think much about the prospect of eating alone as a major problem, but when you are in your 70s, 80s, or even older, the solitude can have a negative impact on your overall mental health and well-being.
No matter what kind of food that your elderly loved one eats, it's a good idea to make sure that they aren't alone all of the time. Invite friends of theirs over, or have a family night once a week in their presence. The company can have a significant positive impact on their overall health.
Now, about Diet and Nutrition
Every person is different and that means their needs are going to be different as well. However, there is a general rule of thumb that can be helpful with regard to diet and nutrition for elderly care. First, colorful foods tend to be healthiest. Fruits and vegetables are key.
Salads and other meals in which these fruits are vegetables do not need to be cooked will be the best way to transfer the important nutrients they contain to your loved one. Also, focus on low calorie and cholesterol diets. Avoid fatty foods and red meats. Its fun to have a nice, juicy steak once in a while, but don't have red meat every day, or even every other day. Fish and poultry are also great ideas for a diet rich in flavor and healthy nutrition.
The caregivers at Great Care are available to talk with you and your family about all of your senior care needs. Great Care is an elderly care agency providing quality and affordable senior care in Greenfield, IN and the surrounding areas. Call (317) 595-9933 for more information.