If your aging loved one has recently undergone hip replacement surgery, it is important that you establish appropriate elderly care measures to help your aging loved one through his time of recovery and rehabilitation. Hip replacement surgery is quite common; therefore patients generally do not spend more than 3 to 5 days hospitalized following such a procedure. Full recovery from the surgery, however, will not be complete for another 3 to 6 months. The length of the recovery period and the difficulties that your aging loved one will face depend on the exact type of procedure that was performed, his health prior to the surgery and his access to attentive and skilled elderly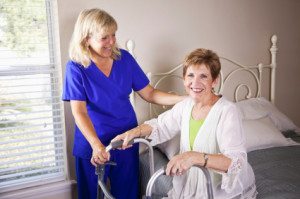 care services.
There are many things that elderly care provider should keep in mind when preparing to care for an aging loved one after a hip replacement. It is likely that if the senior has undergone a hip replacement that he was already suffering extensively from pain and stiffness in the joint, and is ready to embark on a new chapter of life with his hip replacement. This enthusiasm, however, can actually have negative consequences as many seniors will be eager to jump back into life, and may end up over-stressing the joint and causing further damage. It is important that the elderly care plan that is put into place after your aging loved one is release from the hospital contains considerations not just for the management of pain and stiffness after the replacement, but also helping your aging loved one become accustomed to the changes in his life since the surgery.
Some things to keep in mind when providing elderly care after hip replacement include:
Expect your aging loved one to be in pain and even exhibit some bruising after the procedure. This is normal and will subside over the first few days.
The incision may be covered to help prevent the staples or stitches from being snagged and accidentally pulled out. If the incision is not covered, it is critical that careful considerations are made to protect the incision and not accidentally open it.
The physician will prescribe pain medications to help manage pain symptoms after the procedure, but your aging loved one should expect side effects from these medications including drowsiness, sedation, constipation, difficulty thinking in confusion. If your aging loved one needs to take his medications but the side effects become a complication in his life, discuss this with the physician to determine if there may be an alternative treatment available.
One of the mysterious considerations of elderly care after a hip replacement is the prevention of blood clots. A blood thinner may be prescribed, and your aging loved one should be encouraged to wear compression socks and move around as much as possible and has been approved by his physician.
Hip dislocation is a serious risk after hip replacement surgery. Seniors should take special caution not to flex the replaced hip more than 90 degrees, not to cross their legs and not to allow their knees to turn or bend in or out.
The caregivers at Great Care are available to talk with you and your family about all of your senior care needs. Great Care is a senior care agency providing quality and affordable elderly care in Zionsville, IN and the surrounding areas. Call (317) 595-9933 for more information.