Elder Care in Brownsburg, IN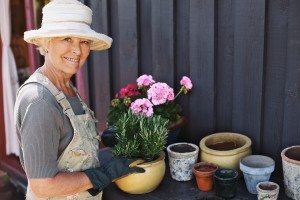 A gardening shed is a fantastic resource of extra storage space, a place to protect your gardening and lawn maintenance tools, outdoor furniture, and recreational items, and even to give you extra workspace for projects such as repairs and carpentry. Making sure that that shed stays clean and organized is an important part of maintaining its value as an organizational and storage tool, and to protect it and everything inside of it from potential damage.
If your elderly loved ones have a gardening shed, it is very likely that they have been using it for many years and that it is filled with items that acknowledge that. This fall, make cleaning out the gardening shed part of your elderly care plan so that you can reclaim the benefit of that building, ensure it is safe and secure, and prepare it for use again in the spring and summer months.
Use these tips to help you clean out your aging parents' gardening shed to prepare it for fall:
• Check the condition. Check the condition of the shed before even going inside. Make sure that the walls and roof are intact and that the building seems sturdy. A building that has been damaged by age, weather, or pests may not have the structural integrity to be safe for continued use, meaning you may need to remove the shed completely and replace it.
• Get rid of trash. Go through the shed first with the intention of getting rid of trash. Do not focus on anything other than finding items you can throw away. This should include partially used cleaning products, vehicle liquids, damaged items, and paper. Paper should never be stored in an outdoor shed as it attracts pests and can mold, mildew, and create a tremendous mess.
• Eliminate unneeded items. Once the trash has been thrown away, go through the shed again and find items that are no longer usable. Broken or unused toys, tools, recreational items, furniture, and decorative items should be taken out of the shed and thrown away, donated, or sold to clear space and ensure those items are used for their intended purpose.
• Store items properly. The gardening shed is the perfect location for you to store items such as holiday decorations and seasonal outdoor tools and items. Make sure that these items are properly stored to protect them from weather damage and pests. Look for durable plastic totes that have lids that fit securely. Separate individual items to keep them properly organized and make them easy to access when needed. Label them carefully and place them in the shed so that you can see the label without moving things around. Consider color-coding your storage by choosing boxes of different colors for different seasons, such as orange and black for Halloween decorations, green and red for Christmas decorations, and blue for summer.
• Ask for help. Make sure that your aging loved ones are safe and secure during the cleaning experience by having their elderly health care services provider in the home with them while you work. This will give you peace of mind that they are receiving the care and assistance that they need and allow you to focus on your efforts.
The professionals at Great Care are available to talk with you and your family about all of your home care needs. Great Care is a non medical in-home care agency providing quality and affordable elder care in Brownsburg, IN and the surrounding areas. Call (317) 595-9933 for more information.