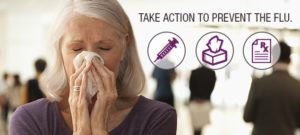 The Centers for Disease Control and Prevention (CDC) has updated information on the nation's "high severe" flu season, which is in its 10th consecutive week of elevated levels. Great Care is taking special precaution to ensure everyone is educated on the update.
In a special flu briefing Friday, CDC experts said the season — the worst since the record-breaking 2009 pandemic — is now a "high severe" one, with flu activity remaining high for most of the country, and even still rising in certain areas. What's more, says the CDC, the latest numbers show that boomers have higher rates of hospitalization for flu than their grandkids do.
"And that's unusual," said Daniel Jernigan, M.D., the director of the CDC's influenza division, who explained that while it's typical for those over 65 to have the highest hospitalization rate, the next highest category is usually children 4 and younger.
"This season, adults 50 to 64 are in that spot," he noted. "And hospitalizations for boomers with flu are higher than observed in recent severe seasons such as 2012-13 and 2014-15."
The CDC reported that what may be at play is the H1N1 virus, what is being described as the dark horse of this year's epidemic.
"While the H3N2 virus has dominated this season and plays the biggest role in sending those over 65 to the hospital, the H1N1 strain seems to be sending more boomers to the hospital," he said. "There are also reports of H1N1 increasing in nursing homes around the country, which is unusual for this time of year."
Jernigan said the explanation for the effect this strain is having on boomers might be complicated but could have to do with it being a virus that they, unlike those over 65, were not exposed to as children.
"The first influenza virus you're exposed to as a child has a way of determining how you respond to influenza for the rest of your life," he said.
As for the bigger picture of flu, the latest information the CDC presented showed that the elevated amounts of flu nationwide has occurred in a season that's been notable for how widespread it's been, all at once.
According to Jernigan, it's "tough" out there generally but some states are having more activity than others. Some signs suggest that hard-hit California may be past the peak of activity, but it still has four times as many hospitalizations as it did the same time in 2014-15, the last "high severe" season.
Minnesota is showing twice the level of hospitalizations it had then, and hospitalizations are rising in New York, Jernigan said. By the end of the season, the total number of hospitalizations nationwide will likely be more than 700,000, he said.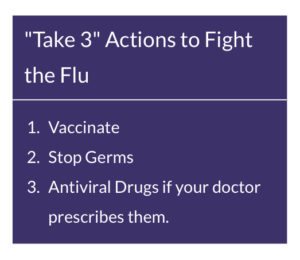 According to the CDC, influenza (flu) is a contagious respiratory illness caused by influenza viruses. It can cause mild to severe illness. Serious outcomes of flu infection can result in hospitalization or death. Some people, such as older people, young children, and people with certain health conditions, are at high risk of serious flu complications.
Flu-like symptoms include fever, cough, sore throat, runny or stuffy nose, body aches, headache, chills and fatigue. Some people also may have vomiting and diarrhea. People may be infected with the flu, and have respiratory symptoms without a fever.
The best way to prevent the flu is by getting vaccinated each year. The CDC recommends getting vaccinated by the end of October, if possible.
"Flu vaccination can reduce flu illnesses, doctors' visits, and missed work and school due to flu, as well as prevent flu-related hospitalizations," the CDC says. "Everyone 6 months of age and older should get a flu vaccine every year before flu activity begins in their community."
The CDC recommends injectable influenza vaccines (including inactivated influenza vaccines and recombinant influenza vaccines) during 2017-2018. The nasal spray flu vaccine (live attenuated influenza vaccine or LAIV) should not be used during 2017-2018.
Vaccination of high-risk persons is especially important to decrease their risk of severe flu illness.
People at high risk of serious flu complications include young children, pregnant women, people with chronic health conditions such as asthma, diabetes or heart and lung disease, and people 65 years and older. Vaccination also is important for health care workers, and other people who live with or care for high-risk people to keep from spreading flu to them.
Children younger than 6 months are at high risk of serious flu illness, but are too young to be vaccinated. People who care for infants should be vaccinated instead.
The CDC also suggests people cover their noses and mouthed with a tissue when coughing or sneezing. Also, take everyday preventive actions to stop the spread of germs, including:
• Try to avoid close contact with sick people.
• While sick, limit contact with others as much as possible to keep from infecting them.
• If you are sick with flu-like illness, CDC recommends you stay home for at least 24 hours after your fever is gone except to get medical care or for other necessities. (Your fever should be gone for 24 hours without the use of a fever-reducing medicine.)
• Cover your nose and mouth with a tissue when you cough or sneeze. Throw the tissue in the trash after you use it.
• Wash your hands often with soap and water. If soap and water are not available, use an alcohol-based hand rub.
• Avoid touching your eyes, nose and mouth. Germs spread this way.
Clean and disinfect surfaces and objects that may be contaminated with germs like the flu.
The CDC also advises to take flu antiviral drugs if your doctor prescribes them.
"If you get the flu, antiviral drugs can be used to treat your illness. Antiviral drugs are different from antibiotics," the CDC says. "They are prescription medicines (pills, liquid or an inhaled powder) and are not available over-the-counter."
Also keep this in mind when being prescribed antiviral drugs:
• Antiviral drugs can make illness milder and shorten the time you are sick. They may also prevent serious flu complications. For people with high-risk factors, treatment with an antiviral drug can mean the difference between having a milder illness versus a very serious illness that could result in a hospital stay.
• Studies show that flu antiviral drugs work best for treatment when they are started within 2 days of getting sick, but starting them later can still be helpful, especially if the sick person has a high-risk health condition or is very sick from the flu. Follow your doctor's instructions for taking this drug.
For more information about Flu Prevention, click here.
The professionals at Great Care are available to talk with you and your family about all of your home care needs, including respite care. Great Care is a non-medical in-home care agency providing quality and affordable elder care in Fishers, IN and the surrounding areas. Call (888) 240-9101 for more information.