CICOA's Orion Bell and Board Chair Mary Beth Tuohy presented the Caregiver of the Year Award yesterday to JoAnn Fowler Combs, Indianapolis, Ind., during our annual Signature Breakfast. Congratulations JoAnn for your life of dedicated service!
JoAnn Fowler Combs has been a dedicated wife, mother, grandmother, daycare owner, child care director, volunteer and church member. In addition to all of these roles, she also is a personal caregiver and has been for more than a decade.
Widowed at age 32, JoAnn finished raising her two children Patrice and Christopher, as a single parent. While juggling the demands of work and family, she also helped provide care for other family and friends.
"I purchased my home knowing that if my family needed me, I would be able to take care of them in my home," she said.
For more than 10 years, JoAnn has provided care for her second husband and her mother, who both took their final breaths in her arms. After her former son-in-law had a debilitating stroke, JoAnn became his caregiver as well. She took him to medical appointments, cooked his meals and assisted with his rehabilitation. In 2006, she took in a sister, who is paralyzed and suffers from mental illness. She also started caring for her first mother-in-law, who suffers from Alzheimer's disease. Today, JoAnn helps both of these women with personal care, prepares their favorite foods, and takes them to doctor's appointments. In her nomination letter, her daughter Patrice said, "Mom is committed and determined that neither my grandmother nor her sister will be placed in a nursing facility, and that the days they have left will be lived at home surrounded by family."
In addition to taking care of family, JoAnn serves on the Parish Council at St. Rita Catholic Church and has been a Grand Lady (president) of the Knights and Ladies of St. Peter Claver for the past five years.
"Everyone is not able to do what I do. I guess it's a calling," JoAnn said. "I ask the Lord to give me strength and keep me healthy."
Great Care couldn't be more proud of our own JoAnn Combs for winning such a prestigious award! Thanks, JoAnn for all that you do. We love you!!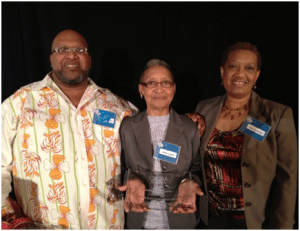 JoAnn pictured (center) with her son Christopher and daughter Patrice