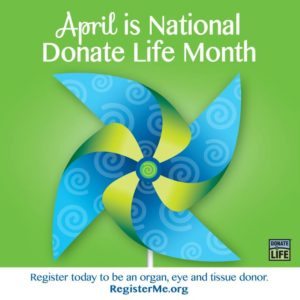 In April, Great Care joins Donate Life America in celebrating National Donate Life Month. And for good reason.
According to Donate Life, one organ, eye and tissue donor can save and heal more than 75 lives. A single cornea donation could restore sight to two people. A donation of organs could save up to eight lives.
"Currently, 54 percent of the U.S. adult population are registered organ, eye and tissue donors. Yet the number of people in need of transplants continues to outpace the number of organs donated," says Donate Life America.
The Organ Procurement and Transplantation Network reports that more than 118,000 people are waiting for a transplant and a second chance at life. On average, 22 people die each day because the organ they need is not donated in time.
"Registering your decision to become a donor is the most effective way to save lives through donation and is a sign of support to those who continue to wait," says Donate Life America.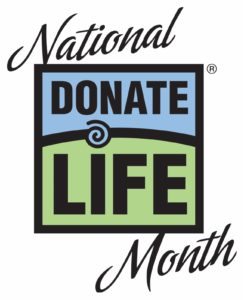 The nonprofit focuses national attention on how every individual has the potential to make life possible by registering their decision to be an organ, eye and tissue donor and by considering being a living donor.
This year, Donate Life America created artwork for National Donate Life Month that illustrates the power of donation. Pinwheels were chosen to tell the donation story, as they capture and pass on energy.
"Each Donate Life pinwheel has four sails supported by one stem. The one stem symbolizes the power of one person to save and heal lives through donation," says the nonrofit organization.
"The four sails represent organ, eye, tissue and living donation, the four ways one person can save and heal more than 75 lives through organ, eye and tissue donation, and even save a life through the gift of living donation."
Donate Life notes that pinwheels are also symbolic of transformation, turning obstacles into opportunities.
"The image of the pinwheel reminds us that we all have the potential power to save and heal lives. This April, we encourage you to watch the pinwheels transform the breeze into colorful motion, think of the lives touched by donation and transplantation and register to be a donor."
Donors may register their decision to be an organ, eye and tissue donor in the Medical ID tab of the iPhone Health app (iOS 10) or at RegisterMe.org.
To learn more about being a living donor, visit DonateLife.net.
The professionals at Great Care are available to talk with you and your family about all of your home care needs, including respite care. Great Care is a non medical in-home care agency providing quality and affordable elder care in Fishers, IN and the surrounding areas. Call (888) 240-9101 for more information.