Special events such as graduations, anniversary parties, weddings, and other gatherings are some of the most joyous days of our lives. They involve gathering friends and family together and celebrating important milestones and wonderful occasions. For aging seniors, however, these can be very difficult days. Their physical and cognitive limitations may make it impossible for them to participate in the activities with their families. This can cause them to feel left out, lonely, and depressed. You can keep this from happening by hiring a home care companion for the day of the special event.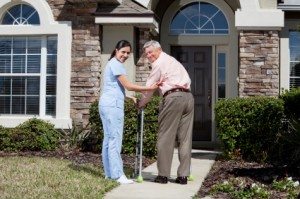 A home care companion can be an invaluable addition to any special event. This caregiver can make sure that your loved one is a major part of the celebration, while also ensuring that the rest of your family and loved ones aren't feeling overwhelmed or burdened by worrying about taking care of the well-being of the senior. This home care companion can offer help such as assisting your senior to the bathroom, getting them around, putting together a plate, helping with eating, offering medication reminders, and anything else that your senior may need to remain happy, safe, and healthy while being a part of the special event.
Contact a home care agency to discuss with them the opportunity to hire a companion for a special event. It is important that you choose a companion that will be a good fit for your loved one. If possible, meet with the home care companion prior to the events and make sure you feel that their personality and work ethic will correspond well with your loved one's personality and needs.
There's no need for your aging loved ones to be left out a special events simply because you don't feel prepared to address their physical, medical, or cognitive needs during the event. It is easy to feel as they you wouldn't be able to handle taking care of them adequately at all, much less while also being a part of the events. Hiring a home care companion for the day of special event takes this pressure off of you, and lets you feel the joy of having your family together for those wonderful moments of life.
The caregivers at Great Care are available to talk with you and your family about all of your home care needs. Great Care is an elder care agency providing quality and affordable home care in Indianapolis, IN and the surrounding areas. Call (317) 595-9933 for more information.