---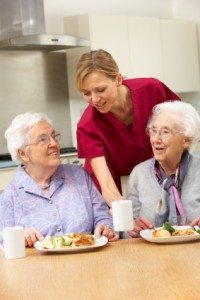 According to the Academy of Nutrition and Dietetics, there are four food types that boost memory: Vegetables, berries, omega-3 fatty acids, and walnuts. And since it's the holidays, elder care services provider Great Care thought it would be the perfect time to share healthy recipes to nurture brain health.
"The best menu for boosting memory and brain function encourages good blood flow to the brain — much like what you'd eat to nourish and protect your heart," says the Academy's eatright.org initiative.
Eatright.org recommends cruciferous veggies including broccoli, cabbage, and dark leafy greens such as kale and collard greens, to help improve memory. Also, blackberries, blueberries and cherries for anthocyanins and flavonoids that may boost brain health. And sources of omega-3 fatty acids including seafood, algae and fatty fish — specifically salmon, bluefin tuna, sardines and herring — and fish oil, seaweed or microalgae supplements.
Walnuts are also known to increase cognitive function, needed in caregiving for those with dementia and Alzheimer's. The Academy of Nutrition and Dietetics suggests snacking on or eating the nuts in oatmeal and salads, or mixed in veggie stir-fry for a protein boost.
Sweet and Spicy Walnuts
This Heart-Check Certified recipe for Sweet and Spicy Walnuts from California Walnuts and the American Heart Association makes for an easy appetizer or holiday snack packed with protein. They could be packaged in a cute mason jar tied with a ribbon for a homemade Christmas  gift. Or a great road trip snack when going over the river and through the woods to Grandma's house.
Ingredients
4 cups California walnut halves and pieces
2 egg whites (lightly beaten)

1/2 cup granulated sugar

2-3 teaspoons cayenne pepper
Instructions
Toss walnuts with egg whites.

Mix sugar with cayenne pepper and toss with the walnuts and egg whites.

Spread walnuts on a baking sheet that has been lightly coated with cooking spray.

Bake for about 10 to 12 minutes or until walnuts are crisp and caramelized. Let cool and enjoy.
Unstuffed Cabbage Soup
With its notable brain health benefits, cabbage is also a great ingredient for winter comfort-food recipes, especially featured in this hearty soup. Like making stuffed cabbage, with half the work. Low-fat, low in sugar, and high in fiber. The American Diabetes Association includes this recipe in its Diabetes Food Hub, at diabetesfoodhub.org,  an online food and cooking resource for people living with diabetes and their families — as well as anyone wanting to eat healthy and boost memory, especially in the coming new year.
Ingredients
Servings: 6
2 tsp olive oil
1 medium onion (diced)
1 lb lean ground turkey
1/2 head green cabbage (chopped)
1 1/2 cups canned tomatoes (crushed)
32 oz unsalted chicken broth
2 cups water
1/4 tsp black pepper
1/4 tsp cayenne pepper (optional)
1 cup instant brown rice
Instructions
Heat the olive oil in a large soup pot over medium-high heat. Add the onion and sauté 2-3 minutes or until the onions turn clear. Add the ground turkey and cook for 5-7 minutes until the turkey browns. Add the cabbage and cook for an additional 4 minutes.
Add all remaining ingredients, except for the brown rice. Simmer the soup for 7 minutes. Bring the soup to a boil; add the brown rice. Reduce the heat to a simmer and cover the pot for 5 minutes.
Bite–size Vegan Blueberry Cheesecake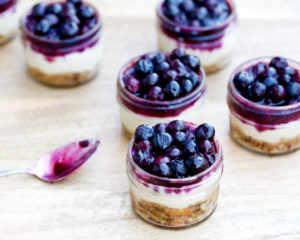 Blueberries are also on the Academy of Nutrition and Dietetics' list of memory-boosting food, so we found many recipes on the U.S. Highbush Blueberry Council's website that are great for holiday meals. These cute, individual-sized blueberry cheesecakes, from Food Heaven Made Easy, Jessica Jones, MS, RD, CDE, and Wendy Lopez, MS, RD, CDE, will put the perfect finishing touch on an evening celebrating with family and friends this season.
Ingredients
Crust
½ cup of raw almonds
½ cup of dates
Cheesecake
1 cup of raw cashews
1 tablespoon of coconut cream
1 tablespoon of coconut oil
1 tablespoon of lemon juice
Blueberry Topping
2 cups of frozen blueberries
1 tablespoon of lemon juice
1 tablespoon of brown sugar
1 teaspoon cornstarch (optional – for thickening)
Instructions
Before getting started, remove 3 medium-sized bowls from the cabinets. You'll use one for the crust, one for the cheese and one for the blueberries.
For the crust, pulse almonds and dates in a food processor until you achieve a crust like consistency. Remove from processor and transfer to a bowl. Set aside.
For the cheese, blend cashews with water, coconut cream, coconut oil and lemon until you have a smooth, creamy consistency. Add additional water as needed.
For the blueberry topping, heat frozen blueberries, lemon juice, brown sugar and cornstarch in a small saucepan over low heat for about 5 minutes (or until mixture becomes thick and starts to slightly bubble).
Lay out all 6 mason jars and start by dividing the crust in each jar. Next add a layer of cream cheese and then a final layer of blueberry topping. Eat one now and stir on the lids to the other 5 jars and save for later. Enjoy!
The professionals at Great Care are available to talk with you and your family about all of your home care needs, including respite care. Great Care is a non-medical in-home care agency providing quality and affordable elder care in Fishers, IN and the surrounding areas. Call (888) 240-9101 for more information.