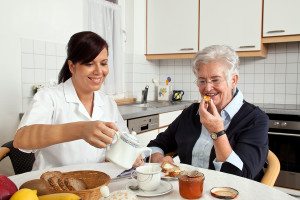 As we all know, the winter months can become long and dull, especially for seniors that have difficulty getting out without assistance. The beginning of the winter months are busy with the hustle and bustle of the holiday season; but, once everything slows down, seniors might have a hard time keeping themselves occupied. A home care companion can help your senior family member with activities that will not only keep them busy, but will also keep them mentally, physically, and socially active. All of these areas are important in keeping our senior loved ones healthy.
There are several indoor activities that a home care companion can help a senior engage in. Here are some ideas:
Find a new recipe – A home care companion and a senior can look through cookbooks, or if a computer is available, search online for a recipe that neither of them has tried. The two can spend a morning gathering the ingredients and making the recipe together and then enjoy the masterpiece over lunch and conversation.
Get organized – If there is a dreaded closet that your senior loved one is in need of cleaning out, a home care companion can help. Although this might not sound like a fun project, the home care companion can make it enjoyable. Stories can be triggered by the items that they come across or they might even come across a box of old pictures that they can discuss over lunch. After getting the closet organized, your loved one will feel accomplished and a household task that needed to be done will be complete. If a senior gets really motivated after cleaning the closet, they might want help with cleaning out kitchen cabinets or organizing drawers. This is a great way to have fun together and for a senior to get some physical activity.
Play a game – Playing a game can get a senior's mind going and be fun all at the same time. A home care companion can teach your loved one a new game or the two of them can play the senior's favorite game; either way, your loved one will be getting some mental activity.
When weather permits, there are also outside activities that a home care companion can do with your senior loved one. Here are some ideas:
Taking a walk – Taking in some fresh air and getting physical activity are never a bad thing for anyone. A home care companion can take your senior loved one out to their favorite park for a walk on the trail, or even just take a short walk through the neighborhood.
Community Center – A senior might have activities that they enjoy getting out and doing at a local community or senior center; however, once winter hits, it might be a little more difficult to do so. A home care companion can help with getting your senior to the community center so they aren't missing out on their activities and social time with friends.
Visiting friends – A home care companion can set up lunch dates or meeting times with your loved one's friends so they don't have to lose out on their social time during the winter months.
Getting mental, physical, and social activity are very important in keeping your senior family member happy and healthy. There are many activities that a home care companion can do with your loved one to keep them engaged during the colder times of the year.
The caregivers at Great Care are available to talk with you and your family about all of your senior care needs. Great Care is an elder care agency providing quality and affordable senior care in Indianapolis, IN and the surrounding areas. Call (317) 595-9933 for more information.