Making the decision to hire a home care companion for a special senior citizen in your life is an important one. While it might take a bit of time for everyone to be open to and completely comfortable with the arrangement, several reasons exist as to why this is really the perfect solution.
Health Conditions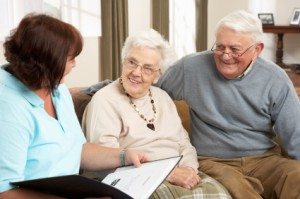 When a beloved family member or friend has a health condition, you likely spend a lot of time worrying about him or her. If no one is home, you just don't quite know how the person is doing. Such a companion will be with your loved one for whatever time frame you choose, even if that includes overnight. The companion will keep a close eye on any health issues.
General Mobility
Let's say that the senior citizen in your family is having trouble getting around the house. As a result, tasks such as retrieving a glass of water, bringing up the laundry and taking a shower are difficult. Once a home care companion is hired, the worries of these troubles go away. The companion will be able to perform these duties for the individual who is under his or her care at that time.
Getting Out
Running errands is practically second nature to many people, and they are quickly out of the door the second that they need new shampoo or a loaf of bread. Well, these acts become more difficult when a person is unable to move around or is no longer able to drive. Fortunately, companions are also able to assist in running errands. Some will bring able seniors to the stores, and the elderly can still do their own shopping. If this isn't possible, the companions will be able to run the errands for them and take care of their shopping needs.
Companionship
As the name of the position implies, companionship is a major component to being a home care companion. Some of the elderly clients will have lost their spouses, and others will feel a bit lonely when everyone else in their family is at work or school for the day. A companion gives them someone to which to talk and with whom to enjoy the day.
No matter whether your parent has limited mobility or a more serious condition, a home care companion is an excellent idea. This person will help to make the life of your parent easier again.
The caregivers at Great Care are available to talk with you and your family about all of your home care needs. Great Care is an elder care agency providing quality and affordable home care in Indianapolis, IN and the surrounding areas. Call (317) 595-9933 for more information.