Caring for an ailing or elderly loved one in the home can be one of the most rewarding and challenging times of your life. The "Sandwich Generation" refers to the group of people that takes care of growing children and aging parents simultaneously. Whether you're in the Sandwich Generation or not, providing home care for a family member can result in physical, emotional and mental strain as time goes on. When this happens, many family caregivers feel guilty and wonder if they're not trying hard enough. But, more than likely, you're doing all you can without appropriate support. Consider these reasons for enlisting the help of home care providers.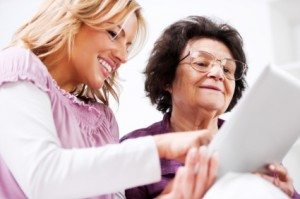 Prevent Burnout
Family caregiver burnout is a common side effect experienced by those who care for sick or aging loved ones in the home. Simply put, there's no time for you to take care of yourself when you work, run a household and provide care and support to a family member in need. Having home healthcare can relieve a great deal of the stress and demand on your time so you can take care of your own needs, too.
Take Care of Basic Needs
To properly care for your loved one, as well as yourself and your family, you must wake up early and stay up late. At some point, sacrifices must be made and the last thing you want to do is provide less-than-stellar care for your family member. When a home healthcare provider is present, you can rest assured that your loved one's needs are being met.
Provide Family Support
In the process of taking care of your ailing parent, partner or child, a home healthcare provider will also make you feel supported, too. The presence of another caring individual that helps relieve the burden you deal with daily can relieve the stress you carry when trying to do it all by yourself.
As you and other family members benefit from the help of a home caregiver, you'll be able to shift some of your focus from caring for your loved one to enjoying the time you have together. This can be especially important and meaningful when a loved one has been diagnosed with a terminal illness. Many families who've enlisted the help of a caregiver have found the caregiver's presence to be a gift to the whole family. Maybe it's time for you and your loved ones to benefit from this kind of support and help.
The caregivers at Great Care are available to talk with you and your family about all of your home care needs. Great Care is an elder care agency providing quality and affordable home care in Indianapolis, IN and the surrounding areas. Call (317) 595-9933 for more information.