The decision to have someone provide in home care can be a difficult one. The idea of having someone come into your home to provide care can be difficult to adjust to but it is worth it when it comes to keeping your independence. Learning what to expect from a home care provider can help to ease your mind.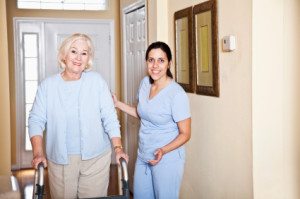 Services Provided by Home Care Providers
•          Basic housekeeping
•          Meal preparation and feeding assistance
•          Toileting, dressing and mobility assistance
•          Range of Motion exercises
•          Bathing
•          Medication reminders
•          Taking vital signs
•          Providing companionship
The services provided by an in-home care provider will vary by the agency but typically include basic housekeeping such as dishes, removing hazards and preparing meals. Assistance is provided with the tasks of daily living on the most basic level when minimal assistance is all that is required. In home care services provide a way to ensure that the little tasks that become difficult with age are carried out and hazards removed to help seniors remain in their homes as long as possible.
Seniors can begin to get lonely as they age and experience limited mobility that keeps them from getting out and about like they used to, an in home care provider gives them the benefit of companionship that they could be missing. Dressing, bathing and other basic tasks are also assisted with during the course of the care provider's shift.
In home care service can be gotten for a few hours a day during the week, at set times or in shifts where different care providers come and go during the day. You can also have home health care services depending on the agency that provides the services.
Home health care services are typically provided by agencies that specialize in such care and have a staff of nurses that go out to meet basic health care needs during the week. The visits from nursing staff will vary based on need, health and physical condition of the one receiving the care. Therapists may be included in the home health care services if there is a physical need to be met.
The benefits of having someone come into the home to provide care include relieving stress on family caregivers and allowing them to enjoy time with their loved one. You will want to make sure that the agency is the right fit for you and your loved one.
The caregivers at Great Care are available to talk with you and your family about all of your senior care needs. Great Care is an elder care agency providing quality and affordable home care services in Brownsburg, IN and the surrounding areas. Call (317) 595-9933 for more information.