We live in a world of technology. All around us incredible advancements in devices and systems offers a higher quality of life as they provide conveniences as well as support necessary functions. For seniors, technology offers the opportunity for increased independence and the ability to live in their own homes for much longer. Home care technology is advancing at an incredible rate, and allowing more seniors on a daily basis to enjoy continuing to live the active and vital lives to which they are accustomed, while also making sure that they remain safe and secure.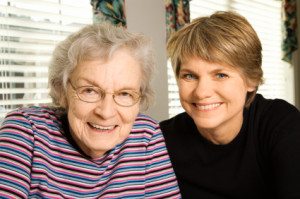 Home care technology involves systems of sensors and other monitoring devices that are placed around a senior's home and are connected to management centers that process the information provided by the sensors in devices so that dangers and risk factors can be identified promptly, and then taking care of effectively. One example of such a system is called eNeighbor. This is a system of sensors that are placed around the home of a senior in order to detect patterns of movement throughout the home that can indicate a fall or other medical emergency. If an emergency situation it is suspected, a representative at the monitoring center will call the home to make sure that everything is okay. If the senior does not respond, more calls are made to emergency contacts listed by the senior, and eventually to 911. This can provide rapid rescue services that can truly save lives.
Simpler forms of home care technology include sensors that can indicate medication compliance, can take vital signs, and indicate regular movement and treatment activities. The information that is gathered by the sensors can even be transmitted remotely to a care worker, family member, neighbor or even doctor. This ensures up-to-date information and the ability to address emerging needs promptly. Many seniors signed that without these systems of home care technology they would be completely unable to live in their own homes without around-the-clock care. This technology is allowing seniors to embrace life and enjoy their independence for much longer.
The caregivers at Great Care are available to talk with you and your family about all of your senior care needs. Great Care is an elder care agency providing quality and affordable senior care in Indianapolis, IN and the surrounding areas. Call (317) 595-9933 for more information.