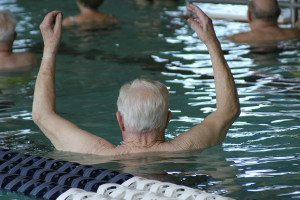 Elder care is more than just being concerned with medications, doctor appointments and physical limitations; it is also about loved ones staying fit and enjoying life. And water aerobics can help with the staying fit and enjoying life aspect. It will keep your loved one's joints more flexible, help to build muscle and improve balance. Here is why:
The benefits of water aerobics
Because of water's natural buoyancy, cooling effect, resistance to movement and decreased joint impact, it's a perfect exercise medium for your senior. This is especially true because exercise which is performed in the water has less impact on joints than exercise that is land-based. When a person is in the water, only 25 to 35 percent of the weight of their weight is actually on the joints and hips, so it reduces stress and the impact on the joints. In seniors, this will expand the range of motion more than what a senior can usually move when doing land exercises. Another benefit of exercising in water is that it improves the cardiovascular system because it elevates the heart rate. Too, since the water provides resistance, it works the muscles and improves muscle strength as well as balance because your senior's body has to remain in an upright position in a changing environment.
Types of exercise
There are several types of exercises in the water which will be beneficial to help to increase your senior's mobility:
Pool walking is performed at the shallow end of the pool. In this, seniors walk along the wall of the shallow end from one side to the other, and back again, wearing water shoes for safety. To help with more muscle resistance, your loved one can add hand weights, hand floats or weighted boots, plus increase the speed of the walking for increased effectiveness.
Balance exercises are great to work on your loved one's balance problems. By doing this type of exercise the risk of falls are eliminated; and if your senior makes an over-balance adjustment, the environment allows for mistakes without injury.
Endurance exercises in water are good for your loved one's cardiovascular system. The exercises performed are done at a brisk pace and will elevate your loved one's heart and breathing rates. Your senior can walk, jog, lift his or her knees in place, kick and dance the twist; or just plain hop up and down.
The social aspect
There is a social aspect to water aerobics as well. Other seniors will be there talking, walking around the pool and swimming. Your senior may make some new friends or meet up with some old ones. It will get him or her out of the house and into a different environment while having some fun and being social.
Elder care is about health, all kinds. And mental, physical and emotional wellbeing are increased with water aerobics that your loved one enjoys!
The caregivers at Great Care are available to talk with you and your family about all of your elder care needs. Great Care is an elder care agency providing quality and affordable elder care in Zionsville, IN and the surrounding areas. Call (317) 595-9933 for more information.