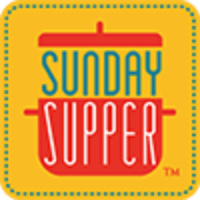 Great Care has fond memories of supper with the family on Sundays, a time to regroup and revisit with loved ones. Luckily there's a National Sunday Supper Day, observed annually on the second Sunday in January, to bring back the traditions of Sunday supper.
"These days families are busy with after-school activities, jobs and homework," says the Sunday Supper Movement. "Sunday supper has been a disappearing tradition around the country and the Sunday Supper Movement aims to bring families back together in the kitchen and around the dinner table one Sunday at a time. National Sunday Supper Day is another step toward this goal."
To observe, the Sunday Supper Movement suggests spending the day with family preparing and sharing Sunday supper. "Then, Sunday supper may start off as one day a week and soon becomes a way of life."
Isabel Laessig, Sunday Supper Movement and Food and Wine Conference founder, is a mother of four, who created her blog, Family Foodie, when her oldest left for college. She realized what her kids missed most about home were moments spent in the kitchen and around the table with family.
In 2012 Laessig and eight other bloggers and their families celebrated the first virtual Sunday Supper with a progressive dinner.
"We are passionate about bringing families together to cook and eat together," Laessig says.
The Sunday Supper Movement's mission strives "to create a better future for families, by partnering with brands and services that help families feel good, eat better and interact with each other. We want our mission to reach the homes of all families and inspire people across the world to spend time around the family table."
The user-friendly website features a visual Sunday Supper Recipe Index, cookbooks and reviews, contests and giveaways, and a community section.
These recipes caught our eye for a healthy start to 2018: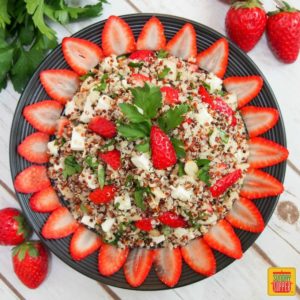 Strawberry Quinoa Salad
By Caroline / Caroline's Cooking
"This Strawberry Quinoa Salad is bright, easy to make, and a delicious way to stick to your diet. January weather can be dull, and if you're trying to eat more healthily, your food might seem dull too. But that can change. Between the sweet strawberries, smooth creamy feta, crunchy almonds and wholesome quinoa, this strawberry quinoa salad is sure to brighten your plate. It's a delicious, satisfying and versatile salad."
Ingredients
1 cup quinoa
1 lb Florida Strawberries
4 oz feta
1/2 cup chopped parsley
1/2 cup almond slices
For the dressing
1/2 cup orange juice
1 tbsp olive oil
2 tsp maple syrup
2 tbsp balsamic vinegar
1 clove garlic, crushed or finely chopped
Instructions
1. Cook the quinoa according to package instructions. Set aside to cool.
2. Save a few strawberries of similar size to decorate the plate, then cut the rest into quarters, halving larger ones as appropriate.
3. Cut the feta into small dice.
4. Put the dressing ingredients into a small bowl and whisk, or into jar and shake together until blended.
5. Put the quinoa in a bowl and pour over the dressing. Add the parsley and mix together.
6. Add the strawberries, almonds and feta and gently mix them all through.
7. Slice the reserved strawberries top to bottom and place around the edge of the plate to decorate. Serve.
Recipe Notes
I used a tricolor quinoa blend but you can use white, red or any other combination as you prefer. We recommend using Florida Strawberries for best results.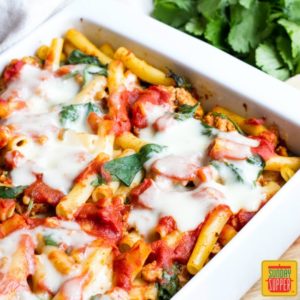 Spinach Baked Ziti Make-Ahead Freezer Meal
By Kat Jeter
"Start the new year healthier and organized with this Spinach Baked Ziti freezer meal recipe. With the new year starting, we're all looking for some healthy make ahead freezer meals to simplify life and get us back on track. This make-ahead freezer meal is lightened up with ground turkey in place of ground beef, and fresh baby spinach to ensure you get your daily serving of vegetables. It's still total comfort food though with lots of delicious tomato sauce and a a mixture of mozzarella and Parmesan cheese on the inside and fresh mozzarella melted on top. It's a freezer meal that everyone in the family is going to love!"
Ingredients
16 oz. Ziti
1 tbsp Olive Oil
1.5 lb. Ground Turkey
1 tbsp Italian Seasoning
2 tsp Salt, divided
5 oz. Fresh Baby Spinach, steamed
45 oz Pasta Sauce, divided
1 c Parmesan, grated
8 oz. Mozzarella cheese, shredded
4 oz. Fresh Mozzarella, sliced
Instructions
1. Bring a large pot of water to a boil. Add 1 teaspoon of salt and ziti. Cook according to package instructions. Once it is cooked drain water and place ziti back in the pot. Set aside.
2. Heat a large skillet over medium high heat. Add olive oil and ground turkey. As turkey cooks add 1 teaspoon of salt and Italian seasoning. Once turkey is browned remove from heat and drain grease.
3. Add cooked ground turkey, 35 oz. pasta sauce, shredded mozzarella, Parmesan cheese, and steamed baby spinach to the pasta and gently fold together.
4. Grease the inside of a disposable aluminum pan and pour the ziti mixture into it. Top with the last 10 oz. of pasta sauce and the sliced mozzarella.
5. Wrap tightly with plastic wrap and then aluminum foil and place in freezer.
6. When ready to eat remove from freezer the night before and let the Spinach Baked Ziti thaw in the refrigerator overnight.
7. Preheat oven to 375 degrees F.
8. Remove plastic wrap and cover the dish with aluminum foil then bake for 25-35 minutes.
9. Remove foil and continue to bake for 20 minutes more or until sauce is bubbling and dish is heated through.
10. Let stand for 10 minutes and then enjoy!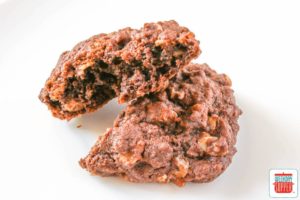 Mocha Oatmeal Cookies
"Ah, January. You are filled with many hopes and soooooo many resolutions. I know that one of the resolutions I hear over and over again is to cut down on desserts. While that is not really in my DNA, Mocha Oatmeal Cookies are the perfect compromise for all of us."
Ingredients
6 ounces (168 grams) unsweetened chocolate, melted
1 tablespoon (4 grams) instant coffee powder
2 cups (280 grams) all purpose flour
1½ cups (143 grams) old fashioned oats
1 teaspoon (4 grams) baking soda
1 teaspoon (9 grams) salt
16 tablespoons (216 grams) unsalted butter, softened
¾ cup (164 grams) sugar
¾ cup (151 grams) light brown sugar
2 eggs
1 teaspoon vanilla extract
Instructions
1. Preheat the oven to 350°. Line 2 or 3 baking sheets with parchment paper and set aside.
2. Stir the coffee powder into the melted chocolate and set aside.
Whisk together the flour, oats, baking soda and salt. Set aside.
3. Place the butter, sugar and brown sugar into a large mixing bowl. Beat until light and creamy, about three minutes. Add the eggs, one at a time followed by the vanilla extract.
4. Blend in the chocolate/coffee. Mix in the dry ingredients.
Transfer the dough to a bowl. Cover with plastic wrap and refrigerate for 30 minutes.
5. Use a 2 teaspoon cookie dough scoop to shape the cookies onto the prepared pans.
6. Bake at 350° for 12 minutes, rotating the pans top to bottom and front to back halfway through. Cool completely on the pans.
For more information visit sundaysuppermovement.com. Use #SundaySupper on social media.
The professionals at Great Care are available to talk with you and your family about all of your home care needs, including respite care. Great Care is a non-medical in-home care agency providing quality and affordable elder care in Fishers, IN and the surrounding areas. Call (888) 240-9101 for more information.