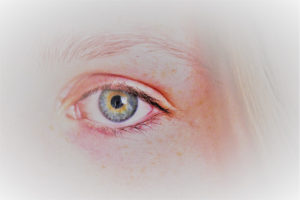 January is National Glaucoma Awareness Month, and Great Care in-home care services is taking the time to share the symptoms, signs and treatments available for those diagnosed. Glaucoma is the leading cause of blindness, and seniors are at a higher risk as they age.
"Glaucoma can cause blindness if it is left untreated," says the Glaucoma Research Foundation. "And unfortunately approximately 10% of people with glaucoma who receive proper treatment still experience loss of vision."
According to the Glaucoma Research Foundation, there is no cure for the eye disease often referred to as the "silent thief of sight." And while vision loss caused by glaucoma cannot be reversed, prevention is possible for future optic nerve damage.
"With medication and/or surgery, it is possible to halt further loss of vision," the Foundation says. "Since open-angle glaucoma is a chronic condition, it must be monitored for life. Diagnosis is the first step to preserving your vision."
Nearly 3 million Americans are diagnosed with glaucoma, a degenerative eye disease that occurs when fluid builds up and that increased pressure damages the optic nerve. Unfortunately, there can be no visible symptoms, so only about half of those diagnosed know they have the disease, according to the Specialty Eye Institute. If not treated, permanent blindness may transpire.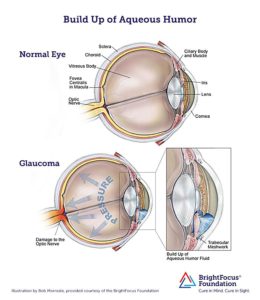 The BrightFocus Foundation, a nonprofit that supports research to end Alzheimer's disease, macular degeneration and glaucoma, lists symptoms including vision loss and diminished quality of vision that significantly impairs daily activities such as driving. An eye doctor can provide an exam for glaucoma, especially if a family history of the disease exists in patients.
"It is crucial to have some basic understanding of the tests for glaucoma so that you can make an informed decision about your treatment options under the guidance of your doctor," BrightFocus says.
Caregivers with loved ones diagnosed with glaucoma can find tips and help from BrightFocus Foundation by clicking here. The Foundation says if you have a friend or family member with glaucoma, learn as much as possible about the condition.
"That way, you can provide supportive, caring, and practical help," BrightFocus says. "Although it may be difficult for your loved one to ask for help, it's important to communicate openly and clearly. Encourage him or her to be specific about what you can do to help."
Caregivers can also visit the BrightFocus Foundation's Helpful Resources page for more tips.
The professionals at Great Care are available to talk with you and your family about all of your home care needs, including respite care. Great Care is a non-medical in-home care agency providing quality and affordable elder care in Fishers, IN and the surrounding areas. Call (888) 240-9101 for more information.