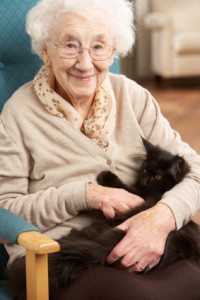 Dan loved his dog. She was a relatively large Black Lab and she was more than just affectionate; she was protective of Dan. Though she was getting up there in years (nine, which is about 63 in dog years), she was still eager for walks around the block, for chasing a tennis ball in the yard, and for curling up at Dan's feet when he was in his recliner, flipping through channels on the TV.
For Dan, being apart from his dog was not something that he ever considered, but when he suffered a heart attack, and while his dog stayed with him until the emergency medical providers arrived, he was told that one thing was going to have to change, and that was that his dog would need to go. His daughter, Melanie, told him that he was going to require a caregiver to come to his home from time to time, at least a few times a week, and that they were going to have trouble finding an in-home care provider who was willing to deal with a larger dog.
Dan didn't want to even consider the idea of losing his precious Sara, as he had named her many years ago when she was barely 5 months old and a new puppy stumbling her way through the house, sniffing everything, and getting into her fair share of trouble. For Dan, there was no choice if it meant that Sara had to be given away, or worse.
February 20th is National Love Your Pet Day and for Dan, that might as well be every day of the year. He told his daughter that he would rather take his chances and be alone than to give up his dog.
Ultimately, Melanie did find a caregiver who didn't mind the dog and thought it was a good idea to keep her. Pets, she told Melanie, can be an important and positive force in people's lives and taking her father's beloved pet away could have a profound impact on his health and well-being over the long term.
When it comes to providing home care to an elderly individual with a pet, it could be best for them to keep their beloved animal, if it doesn't interfere with their care, or harm their health.
The caregivers at Great Care are available to talk with you and your family about all of your caregiver needs. Great Care is an elder care agency providing quality and affordable elderly care in Zionsville, IN and the surrounding areas. Call (317) 595-9933 for more information.