It's not as easy as it may seem to recognize early symptoms of Alzheimer's disease in a loved one. There are many components that are factors in this difficult process. For example, a close family member may not see the symptoms even when they become more pronounced; in a sense they become blind to the symptoms, or seemingly unaware. It's part of the psychological process of denial.
Denial protects a person from things in reality that could potentially cause great anxiety, conflict or emotional devastation. Denial doesn't necessary happen on purpose; in fact the family member may not be aware that they are denying facts that are fairly obvious to those who don't have an emotional investment in the person in question.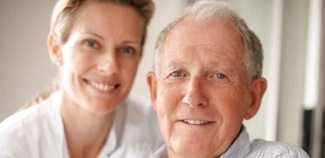 It's human nature to have a strong desire that your loved one is alright. You can't bear the thought that she might have something like Alzheimer's, so you may not see the symptoms for what they are. Yet there are many advantages for the loved one if they get early diagnosis. The drugs developed for this disease are more effective when started on an early course.
If you have any slight suspicions or glimmers of questions as to whether your loved one may have Alzheimer's disease, it's worth checking out while still in the early stages. There are other conditions whose symptoms mimic those of Alzheimer's disease. Your doctor can rule out all other possibilities.
Senior Care – when you care the most
An early diagnosis of probable Alzheimer's benefits both your loved one and yourself, as caregiver. At this early stage, before you get overburdened by the demands and responsibilities, you can plan for the future of both you and your elderly loved one. You will need help from family and friends. You will need support and respite. Some of the things you can begin to plan are:
Caregiving – how much you will do and how much will be covered by senior home services.
Finances – who will be your parent's financial manager and how care will be paid for?
Senior Care – choosing a care agency and setting up regular care for your loved one
Support systems – a support network for the family member primarily in charge of the well-being of the loved one. If that means you, make sure you have a social network in place, friends you can go out with, other family members who can lend their help and give you a shoulder to lean on when you need it.
The caregivers at Great Care are available to talk with you and your family about all of your senior care needs. Great Care is an elder care agency providing quality and affordable senior care in Fishers, IN and the surrounding areas. Call (317) 595-9933 for more information.