Many seniors love Halloween because it gives them an excellent opportunity to interact with children, parents, and individuals throughout their neighborhood. What many people do not take into account is the fact that Halloween can actually present a very real safety risk to individuals that are in their senior years. There are multiple things that need to be taken into account including make sure that the walkway on the way to the door is as clear as possible by having dangerous items removed, so that your parents have as easy of a time getting to and from the couch to the door to give candy to children.
Clear Walkways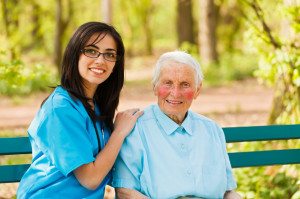 During the course of the Halloween night, your senior parents may have to get up from their seat and walk to the front door as many as 25 times in one night. Of course, it is easy to see why this much walking around the house in one night may present a safety risk. They may become easily fatigued, and that can lead to potentially risky falls or slips, which should be avoided at all costs. Make sure that you clear all of the walkways to make them as easy as possible for your senior parents and navigate, and make sure that they have things to grab onto along the way.
Check Porch
Another thing that needs to be taken into consideration is going to be the porch. Remember that there will be children coming up onto the porch, so you need to remove any obstacles or potentially dangerous items that could pose a risk to either the children or to your senior parent. It is probably in your best interest to ensure that you are able to clear the entire porch, at least for the night of Halloween, to make things as simple as possible. Make sure that you take your time, evaluate all potential risks, and get rid of them to the best of your ability.
Help Out
If you believe that the night of Halloween might be too much for senior parent to handle, you can always agree to give them a hand on Halloween night. By taking half of the trips to the front door, you can greatly reduce the risk that they are exposed to travelling from the living room area, to the front door. Of course, you do not need to ask them if they require help, and instead can choose to celebrate the holiday with the whole family as well. Your senior parents would love to see the children in the family dressed up in their Halloween costumes, and you can bet that turning it into a family affair will certainly make the night much easier to handle for your senior parents overall.
Taking the time to make sure that your parents are safe on Halloween ensures that there are no unfortunate falls, and that they are able to hand out candy to all of the kids on the street safely.
The caregivers at Great Care are available to talk with you and your family about all of your senior care needs. Great Care is an elder care agency providing quality and affordable senior care in Greenfield, IN and the surrounding areas. Call (317) 595-9933 for more information.