If you are providing senior care services for an aging loved one, it is critical that you prepare yourself for the considerations of end of life care. As a senior care provider one of the most difficult decisions you will ever make is when to transition your ongoing senior care into a hospice care arrangement. Accepting that it is time to begin the process of saying goodbye to your aging loved one is extremely emotional situation. You're going to deal with feelings such as guilt, sadness and regret. Some senior care providers even experience a feeling of relief, which is even more difficult for them as it makes them feel as though they don't love their elderly family member or are taking their role as caregiver for granted. Many of these emotions often revolve around the concept of transitioning from ongoing senior care to hospice care.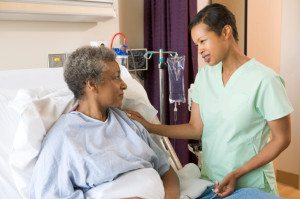 The purpose of hospice care is to neither prolong the process of death, nor make death come faster than nature intends. Those on the hospice team are dedicated to providing each senior the highest level of dignity, comfort and support throughout the end-of-life process, and extend this comfort and support to the family as well. End-of-life is not an easy transition, but with adequate support and encouragement from a dedicated hospice team, it can be made less painful for all involved.
It can be difficult to make the decision to transition your aging loved one into hospice care, but as a family senior care provider it is your responsibility to make sure that your aging loved one is provided the highest quality of life possible until the very end of his life. Here are some things for you to look for when considering whether your aging loved one may be ready for the comfort and support of hospice care:
Your aging loved one is suffering from a chronic disease that has progressed to a stage at which the treatments available are no longer effective or maybe causing greater discomfort than the symptoms of the disease itself
Your loved one has made the conscious decision to stop treatments and repeated hospitalizations, which has led to a decline in health
Your aging loved one has expressed a readiness to leave this life. A senior who admits that he is ready to let go or asks to be brought to hospice is not one that is depressed or suicidal, but one that has insight and understands that he has reached the end of his life and is ready for the transition.
Whenever it comes time for you to decide transition your aging loved one into hospice care, make sure that you are making a decision based on love and respect. Understand that hospice care is about making your aging loved one comfortable and happy throughout the entirety of his life and that this arrangement will also provide you with the support and encouragement you need to accept the difficult process of saying goodbye to a loved one. Hospice care can make a tremendous difference at this time, and provide everyone involved with emotional support and relief.
The caregivers at Great Care are available to talk with you and your family about all of your senior care needs. Great Care is an elder care agency providing quality and affordable senior care in Indianapolis, IN and the surrounding areas. Call (317) 595-9933 for more information.