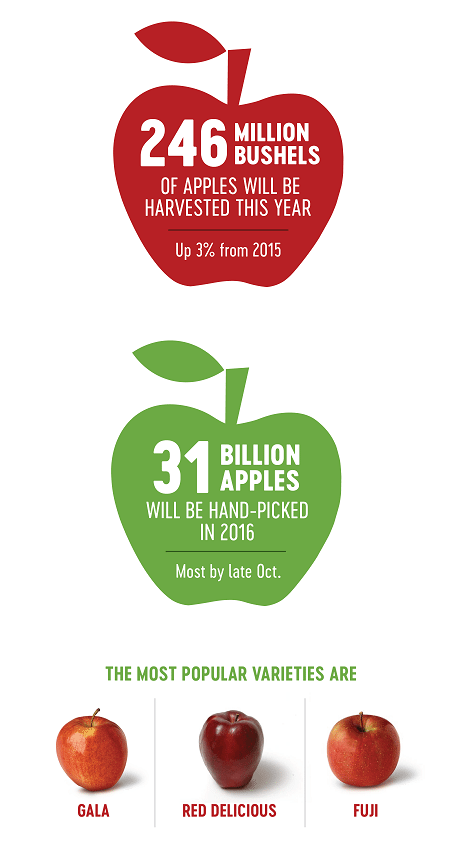 Autumn and apples go together like Thanksgiving and pie, and this year Great Care's apple lovers are in luck.
The U.S. Apple Association (USApple), which represents the American apple industry from growers to juice makers, forecasts a stronger-than-average harvest this season.
"Apple season begins in August and continues into the early months of 2017, and we are already predicting that apple lovers will be finding a healthy bounty of fresh apples at their supermarkets, farmers' markets and U-picks this year," says Wendy Brannen, USApple's Director of Consumer Health and Public Relations.
"With this year's apple crop expected to be three percent above the five-year average, it will be a great time to enjoy your favorite varieties, plus explore new ones you've either wanted to try — or are just now seeing for the first time."
With growers expecting to harvest 246 million bushels of apples, totaling almost 31 billion apples, there will be an ample supply of the vitamin-packed fruit. USApple says approximately 200 varieties will be grown, and 80 percent of all production will be from 10 varieties.
"Approximately 33 percent of the harvest will be processed into apple juice, applesauce, frozen and other products," the national trade association says.
The most-purchased fresh apple varieties are: Gala, Red Delicious, Fuji, Granny Smith, Honeycrisp, Golden Delicious, McIntosh, Pink Lady, Braeburn, and Ambrosia. The fastest-growing varieties in popularity are Honeycrisp and Pink Lady.
USApple offers several recipes featuring delicious apples on its website, including these healthy options for seniors eating light: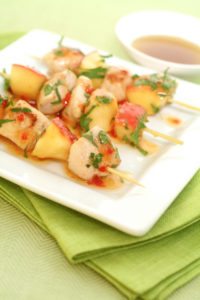 Apple Halibut Kabobs
Serves: 4
Total Time: 1 hour 15 minutes
Ingredients
1/2 cup dry white wine (chicken broth can be substituted)
4 teaspoons olive oil
2 tablespoons lime juice
2 tablespoons finely chopped onion
1/2 teaspoon salt
1/2 teaspoon dried thyme, crushed
1/4 teaspoon pepper
1 baking apple, cored, cut in 1 inch cubes
1 medium green or sweet red pepper, cut in 1 inch squares and separated
1 small onion, cut in 1 inch squares and separated
1 pound halibut, cut in 1 to 1 ½ inch cubes
Directions
Combine wine, oil, lime juice, chopped onion, salt, thyme and pepper; mix well. Marinate remaining ingredients in mixture 1 to 2 hours.
Thread apple, pepper, onion and halibut on four 12″ or longer metal or bamboo skewers.
Grill or broil 4 to 5 inches from heat 6 to 8 minutes or until fish flakes when tested with fork.
Serve warm or cold.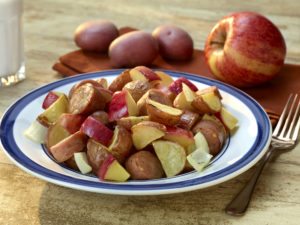 One-dish Roasted Potatoes and Apples with Chicken Sausage
Serves: 4
Total Time: 45 minutes
Ingredients
3-4 red potatoes or your favorite potato variety (about 1 pound)
1 tablespoon canola oil
2 red apples (Fuji, Pink Lady, Honeycrisp, Gala, or similar variety)
1 yellow onion
4 chicken herb link sausages (12 ounces)
2 tablespoons cider vinegar
1/2 teaspoon ground mustard
1 tablespoon honey
Directions
Preheat oven to 425 degrees.
Cut potatoes into chunks, place in 2-quart baking dish. Drizzle with canola oil. Toss to coat.
Roast potatoes in oven for about 20 minutes.
While potatoes are roasting, cut apples and onion into chunks, and sausage into ½-inch slices.
Remove baking dish from oven and reduce heat to 375 degrees. Add all remaining ingredients to baking dish and toss.
Return baking dish to oven and roast an additional 30 minutes until apples and potatoes are tender.
And for a healthy alternative to pie for dessert, courtesy of the American Diabetes Association: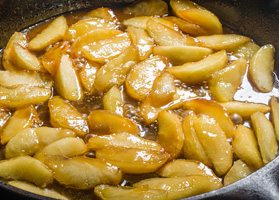 Sautéed Cinnamon Apples
Serves: 4
Prep Time: 7 minutes
Cook Time: 15 minutes
Ingredients
1 Tbsp trans-fat-free margarine
2 large Granny Smith apples, peeled and sliced
1/2 tsp cinnamon
1 tsp vanilla extract
3 Tbsp water
1 Tbsp honey (optional)
Directions
Heat margarine in a sauté pan over medium-high heat. Add apples and sauté for 3 minutes, stirring frequently.
Add remaining ingredients. Reduce heat to low and simmer for 12 minutes, stirring occasionally.
Dietitian Tip: Fruit is a great choice for dessert. Just make sure to work the carbohydrate into your meal plan. For no added sugar, omit the optional honey.
Make it gluten-free: Confirm ingredients are gluten-free and this recipe can be made gluten-free.
Choices/Exchanges: 1 Fruit, 1/2 Fat
To learn more about apples and apple varieties, visit USApple.org.

The professionals at Great Care are available to talk with you and your family about all of your home care needs, including respite care. Great Care is a non medical in-home care agency providing quality and affordable elder care in Fishers, IN and the surrounding areas. Call (888) 240-9101 for more information.