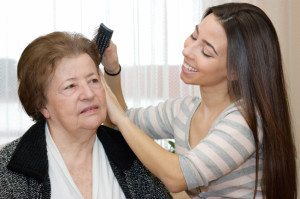 At Great Care in-home care services, the month of November is especially poignant. Not only do we take the time to give thanks for our family of caregivers and the blessings they bring. We also join the Alzheimer's Association in honoring the millions of family members and friends serving as Alzheimer's caregivers during National Family Caregivers Month.
"We have so much respect for those caregivers who dedicate their lives to helping preserve quality of life and dignity for those with Alzheimer's and dementia," says Great Care founder Julie Sullivan.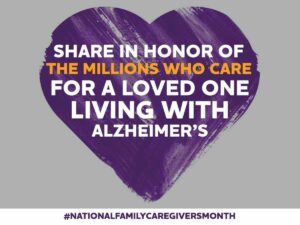 In November, the Alzheimer's Association reminds us that caring for a person with Alzheimer's or dementia often involves a team of people. At Great Care, we believe teamwork makes the dream work.
"Whether you provide daily caregiving, participate in decision making, or simply care about a person with the disease — we have resources to help," the Alzheimer's Association says.
The Association recognizes in-home care services, the same Great Care provides, as an opportunity to allows a person with Alzheimer's to stay in a familiar environment.
"It also can be of great assistance to (family) caregivers," AA says.
If in-home care services are a viable option, the decision-making process in finding the right care is made easier with these helpful tips from the Alzheimer's Association:
Create a list of care needs. Before contacting prospective providers, create a list of care needs, as well as your expectations on how these needs will be met.
Call first. When you call to screen home care providers, find out what kind of help they offer and if it meets your specific needs.
Interview at home. Meet with a prospective home care agency or provider in your home. Prepare questions beforehand. It's a good idea to have a third person present so that afterwards you can discuss your impressions.
Check references. Some agencies will conduct criminal background checks. Ask if these have been conducted. It is also a good idea to talk to others who have worked with the provider.
Share information. The more care providers know about the person they are caring for, the better care they can give. Even with memory loss, persons with dementia maintain strong memories from periods of their past. Familiarize the care provider with past accomplishments, fond memories and other guideposts that are relevant to where the person with dementia's current memory is strong. It will allow for a much greater bond to form between them. The Personal Facts and Insights (PDF) form can help you organize and share information about the person's personal preferences and background.
For more information on choosing in-home care for those you may be caring for with Alzheimer's and dementia, read more here.
To learn more about caregiver resources the Alzheimer's Association provides, and how November is celebrated as National Family Caregivers Month, click here.
The Alzheimer's Association is the leading voluntary health organization in Alzheimer's care, support and research. Its mission is to eliminate Alzheimer's disease through the advancement of research; to provide and enhance care and support for all affected; and to reduce the risk of dementia through the promotion of brain health.
The professionals at Great Care are available to talk with you and your family about all of your home care needs, including respite care. Great Care is a non-medical in-home care agency providing quality and affordable elder care in Fishers, IN and the surrounding areas. Call (888) 240-9101 for more information.