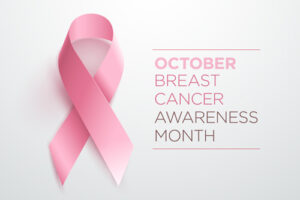 October is synonymous with all that fall offers: Halloween, bonfires, pumpkins spice lattes, flannels and hay rides. What also comes to mind when we think of October at Great Care in-home care services is Breast Cancer Awareness Month.
This annual campaign to increase awareness of the disease turns October pink. The National Breast Cancer Foundation (NBCF) honors the month with a mission to help those affected by breast cancer through early detection, education and support services.
According to the Foundation, breast cancer is among the leading health issues women face in the U.S. today. Breast cancer is a disease in which malignant (cancer) cells form in the tissues of the breast.
"One in eight women will be diagnosed with breast cancer in her lifetime," says the National Breast Cancer Foundation. "There is currently no known cure for it. Early diagnosis and timely treatment is critical to survival."
The American Cancer Society reports that when breast cancer is detected early, and is in the localized stage, the 5-year relative survival rate is 99%.
"Early detection includes doing monthly breast self-exams, and scheduling regular clinical breast exams and mammograms," says the American Cancer Society.
Ken Ramirez, Senior VP of Charitable Giving at the National Breast Cancer Foundation, stresses the importance of early detection, education and support services in fighting the disease.
"Awareness, access to mammograms, and timely treatment make a substantial difference in the survival rate of those affected by breast cancer," he says.
The NBCF suggests these actions to observe Breast Cancer Awareness Month in October:
Recognized as one of the leading breast cancer organizations in the world, National Breast Cancer Foundation (NBCF) is Helping Women Now® by providing support through its National Mammography Program, Beyond The Shock®, breast health education, and research programs.
For more information, visit www.nbcf.org.
The professionals at Great Care are available to talk with you and your family about all of your home care needs, including respite care. Great Care is a non-medical in-home care agency providing quality and affordable elder care in Fishers, IN and the surrounding areas. Call (888) 240-9101 for more information.