Elder Care in Avon, IN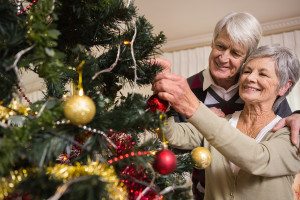 For some elderly adults, aging in place is all about their desire to remain in their own homes surrounded by the things and people who they love and are comfortable with. Sometimes, however, issues arise that make it more difficult for them to actually achieve this goal. Whether it is a partner who dies, leaving a senior alone and incapable of caring for herself, financial restrictions that cause stress, or physical or cognitive limitations that make living completely independently unsafe, if your parents have come to a point in their lives when it may no longer be the right option for them to live in their own home, transitioning them into your home may be a fantastic alternative.
Transitioning your aging loved ones into living in your home can offer the ideal balance between independence and continuing to age in place and getting the care, support, and assistance they need. Deciding that your parents should come and live with you, however, is a tremendous decision. This is a choice that will impact not just you, but your entire family. You must be sure you are doing what is right for everyone involved.
For many people, a transition such as this happens as an emergency measure. This can create a sense of anxiety, worry, and displacement that has a negative impact on your overall elder care efforts. By taking the time to plan ahead and make a conscious, pointed decision about your parents' living arrangements you can ensure that they stay healthy and safe, and minimize the emotional consequences that can come along with such a major change.
If you have decided that transitioning your parents into your home is something that you would like to do, you may want to consider doing this transition during the holiday season. While this season is already busy, it is the very nature of the season that can make the shift from living in their own home to living in your home smoother and less difficult for everyone involved.
Some reasons that the holiday season may be the perfect time for you to transition your aging loved ones into living in your home with your family include:
• Part of the celebration. Living with you means that your parents do not have to travel or go through the stress of hosting a get-together in order to be a part of the celebration of the holidays. This not only enhances the holiday experience for everyone, but it can also help to reduce feelings of depression, anxiety, isolation, and irrelevance that become more common during this time of the year.
• Spread out the transition. Moving in with your family does not have to be a sudden thing. You can spread out the transition for your loved ones by having them come spend a week with you, and then go back to their house for a few days, and then spend another week with you after moving a good portion of their belongings. Go through this pattern over the course of a month or two so that the change is more gradual and acceptable.
• Distraction. Particularly if your loved ones are coping with cognitive limitations, a move can be extremely stressful and confusing. The holiday season presents plenty of opportunities for distractions so that your parents can be involved in holiday merrymaking while you organized and orchestrate the move. Activities such as crafts with their home care provider or your children, going to see lights, or going shopping can all help to keep them out of the way and focused on something else while you work to get them settled in their new home with you.
The professionals at Great Care are available to talk with you and your family about all of your home care needs. Great Care is a non medical in-home care agency providing quality and affordable elder care in Avon, IN and the surrounding areas. Call (317) 595-9933 for more information.