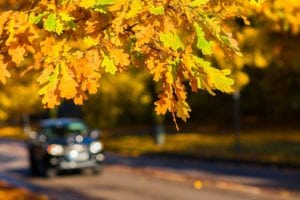 As the seasons change and cooler weather starts to move in, Great Care knows the importance of sharing practical vehicle maintenance tips.
Especially for our caregivers.
"October is Fall Car Care Month, which is the perfect time to make sure your vehicle is up to date on servicing, including oil changes, wiper blade replacement, brake and tire checks, battery charging, fluid replenishing, etc.," says Great Care founder and CEO Julie Sullivan. "When it comes to arriving safely at your destinations, particularly for caregivers, it's always best to be safer than sorry."
The nonprofit Car Care Council encourages motorists to be "Be Car Care Aware" by packing cold weather vehicle essentials, including an ice scraper and snow brush that are easily accessible and ready to use.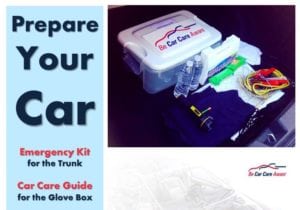 Also, stock an emergency kit with jumper cables, flashlight, blankets, extra clothes, bottled water, nonperishable food and a first aid kit with any needed medication.
For gas, oil and filters maintenance the Car Care Council suggests:
Keeping your gas tank at least half full throughout the cold weather to prevent moisture from forming in gas lines and possibly freezing.
Being diligent about changing the oil and filter at recommended intervals. Dirty oil can spell trouble in winter. Consider changing to "winter weight" oil if you live in a cold climate.
Checking the fuel, air and transmission filters at the same time.
For heating, wipers and lights:
Make sure heaters, defrosters and wipers work properly.
Consider winter wiper blades and use cold-weather washer fluid. As a general rule, wiper blades should be replaced every six months.
Check to see that all exterior and interior lights work and headlights are properly aimed.
Also, AAA recommends motorists use simple checklists to determine their vehicle's fall and winter maintenance needs.
"Many of the items on the list can be inspected by a car owner in less than an hour, but others should be performed by a certified technician," AAA says. "Motorists can identify reliable, high-quality repair shops with certified technicians by looking for the AAA Approved Auto Repair sign. These facilities must meet and maintain high professional standards for customer service, technician training, tools, equipment, warranties and cleanliness. Nearby shops can be located at AAA.com/repair."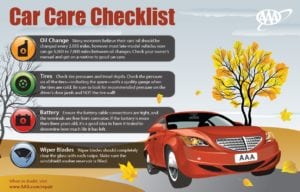 When it comes to tires, AAA advises that motorists pay attention to tire type and tread, especially in areas with heavy winter weather.
"Installing snow tires on all four wheels will provide the best winter traction. All-season tires work well in light-to -moderate snow conditions provided they have adequate tread depth," AAA says. "Replace any tire that has less than 3/32-inches of tread. Uneven tire wear can indicate alignment, wheel balance or suspension problems that must be addressed to prevent further tire damage."
For tire pressure, AAA suggests checking tire inflation pressure on all four tires and the spare more frequently in fall and winter.
"As the average temperature drops, so will tire pressures – typically by one PSI for every 10 degrees Fahrenheit," AAA says. "Proper tire pressure levels can be found in the owner's manual or on a sticker typically located on the driver's side door jamb."
With brakes, if there's any indication of a problem, have a certified technician check your vehicle's system to ensure all components are in good working order. Check all brake, transmission and power steering fluids to ensure they're at or above the minimum safe levels.
AAA offers these additional resources, including links for motorists to subscribe to its YouTube Channel to watch and download videos:
The Car Care Council also offers a free copy of the recently-updated 80-page Car Care Guide for your glove box at www.carcare.org/car-care-guide.
The professionals at Great Care are available to talk with you and your family about all of your home care needs, including respite care. Great Care is a non-medical in-home care agency providing quality and affordable elder care in Fishers, IN and the surrounding areas. Call (888) 240-9101 for more information.