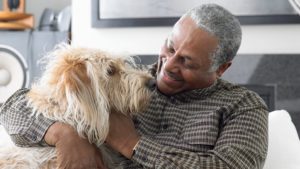 Great Care knows how important pets are to families, and spring is a great time to keep our furry family members safe in the new season.
The American Society for the Prevention of Cruelty to Animals (ASPCA) offers many suggestions for safety in the spring, including a tip many may not know — until it could be too late. Lilies and chocolate candy are toxic to cats and dogs, and all true lilies can be fatal if ingested by cats.
In its "5 Surprising Foods That Can Poison Pets" article, AARP notes several snacks that can be fatal to pets, including chocolate, grapes and raisins, and macadamia nuts. The article cites findings by Italian researchers Cristina Cortinovis and Francesca Caloni, of the University of Milan, whose recent review of studies were published in the journal Frontiers in Veterinary Science. They found that cats can also be sickened, but "dogs are most commonly affected because of their indiscriminate eating habits." (Translation: Dogs will eat anything; cats are more finicky.)
In general, the researchers wrote, "the poisoning episodes resulted from a lack of public knowledge of the health hazard to small animals that may be posed by these products." Either owners fed their pets the foods, unaware of the danger, or the animals themselves accidentally got ahold of them.
Spring cleaning is a common task as the seasons change, so the APSCA warns of the use of cleaners and chemicals.
"Almost all cleaning products, even all natural ones, contain chemicals that may be harmful to pets," the APSCA says. "The key to using them safely is to read and follow label directions for proper use and storage."
Visit this Poisonous Household Products page for more information.
Gardening can also pose a risk, so keep in mind that fertilizers, insecticides and herbicides that keep plants and lawns healthy and green, may be dangerous if pet ingests them, says the APSCA.
"Always store these products in out-of-the-way places and follow label instructions carefully. Many popular springtime plants — including rhododendron and azaleas — are also highly toxic to pets and can prove fatal if eaten."
Click here for a full list of toxic and non-toxic plants for home and garden.
Also, when doing home improvements in the spring, products such as paints, mineral spirits and solvents can be toxic to pets and cause severe irritation or chemical burns.
"Carefully read all labels to see if the product is safe to use around your furry friends. Also, be cautious of physical hazards, including nails, staples, insulation, blades and power tools," reminds the APSCA say. "It may be wise to confine your dog or cat to a designated pet-friendly room during home improvement projects.
Another reminder as the spring weather emerges involves pet owners welcoming the breezy days of spring by opening windows. That could cause unintentional harm to pets.
"Unfortunately, they also unknowingly put their pets at risk — especially cats, who are apt to jump or fall through unscreened windows," the ASPCA warns. "Be sure to install snug and sturdy screens in all of your windows."
Driving in the car can also pose a threat. Of course most dogs love to feel the wind on their furry faces, allowing them to ride in the beds of pick-up trucks or stick their heads out of moving-car windows is dangerous. But the ASPCA suggests a safer route when transporting pets.
"Flying debris and insects can cause inner ear or eye injuries and lung infections, and abrupt stops or turns can cause major injury, or worse," the Association says. "Pets riding in cars should always be secured in a crate or wearing a seatbelt harness designed especially for them."
For more tips from the ASPCA on springtime pet safety, visit:
https://www.aspca.org/pet-care/general-pet-care/springtime-safety-tips
If you suspect your pet may have come in contact with or ingested a potentially poisonous substance, contact your local veterinarian or the ASPCA Animal Poison Control Center immediately at (888) 426-4435.