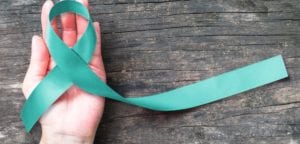 September is Ovarian Cancer Awareness Month, and Great Care takes special time to help build awareness around this heartbreaking women's health issue. It is estimated that ovarian cancer will be the cause of approximately 14,070 deaths in the U.S. this year alone.
According to the American Cancer Society, there will be approximately 22,240 new cases of ovarian cancer diagnosed in 2018. Although ovarian cancer accounts for just 2.5% of all female cancer cases, says the Society, 5% of cancer deaths are attributed to ovarian cancer because of the disease's low survival rate.
"This is largely because 4 out of 5 ovarian cancer patients are diagnosed with advanced disease that has spread throughout the abdominal cavity," the American Cancer Society says. "Improving the ability to detect ovarian cancer early is a research priority, given that women diagnosed with localized-stage disease have more than a 90% five-year survival rate."
One promising aspect of ovarian cancer is that understanding of the disease has evolved rapidly in recent years, reports researchers. Growing awareness, elevated advocacy, and proactive measures toward early diagnosis can help save lives. Especially for those women screened in their 40s, 50s, and 60s, common age groups for diagnosis. The American Cancer Society estimates that about half of all cases occur in women over the age of 63.
Early stage ovarian cancer may not have any symptoms, or they can include:
frequent bloating
quickly feeling full when eating
difficulty eating
a frequent, urgent need to urinate
pain or discomfort in the abdomen or pelvis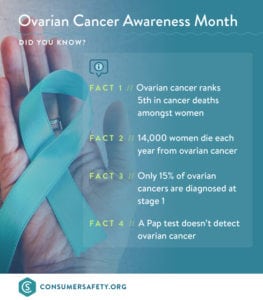 "These symptoms have a sudden onset. They feel different from normal digestion or menstrual discomfort," says the American Cancer Society. "They also don't go away. If you have these symptoms for longer than two weeks, you should seek medical attention."
Other symptoms of ovarian cancer can include:
lower back pain
pain during intercourse
constipation
indigestion
fatigue
a change in the menstrual cycle
weight gain
weight loss
vaginal bleeding
acne
back pain that worsens
An ovarian cancer diagnosis can be stressful. For those seeking support when being diagnosed or during cancer treatment, contact the American Cancer Society at 1-800-227-2345. A cancer information specialist can offer help in receiving a wig, finding a ride to treatment, and other needs. Also visit https://www.cancer.org/cancer/ovarian-cancer.html for more information about ovarian cancer. Learn about causes, risk factors, prevention, treatment, and more.
The professionals at Great Care are available to talk with you and your family about all of your home care needs, including respite care. Great Care is a non-medical in-home care agency providing quality and affordable elder care in Fishers, IN and the surrounding areas. Call (888) 240-9101 for more information.