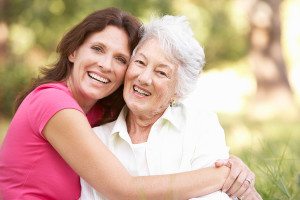 The other day I was talking to a friend of mine whom I used to spend time with. She's been a good friend for a long time and I value her opinion, and I used to truly enjoy getting together for a cup of coffee once a week. Lately, though, since I took on the role of family caregiver for my mother, I haven't had that much time to do those things with her.
I didn't recognize it at the time, but when my friend wouldn't take no for an answer about meeting for coffee one evening, she immediately commented that I looked stressed. I hadn't thought much about it because I didn't feel as though I had time. But in truth, I was dealing with a high level of caregiver stress.
The reason that she was able to point this out to me was that she had known me for so long that she understood how I processed things. She also knew how I worked and that my kids were now out of the house, so there was nothing much to be stressed about, aside from work, which was relatively stressful to begin with.
However, once she pointed it out, I began to recognize the signs that she had been noticing. She heard my voice from time to time when we spoke on the phone and she could hear the stress in it. She told me that I needed to focus on my own health; I needed to find a way to alleviate the caregiver stress that I was experiencing.
I didn't know what to do, but I began to rattle off a long litany of things that were bothering me, things that were constantly on my mind every single day. She sat there and listened intently, but not saying much at all. When I was finally done, I felt better for having gotten it 'off my chest.'
That's when she suggested that I begin keeping a journal for myself. I should write in it every day, preferably a little in the morning and some at night. I could write anything I wanted about my day, the day ahead, yesterday, my fears, concerns, worries, and even my hopes.
I had never been one to do much journaling, but I learned that it is actually a cathartic experience and one that has helped me overcome many aspects of the caregiver stress that I was dealing with. That has improved the care my mother receives, my professional life, and it's also helped me make time for friends. That's important to me.
The caregivers at Great Care are available to talk with you and your family about all of your caregiver needs. Great Care is an elder care agency providing quality and affordable elder care in Zionsville, IN and the surrounding areas. Call (317) 595-9933 for more information.