Being the caregiver for an aging loved one can be exceptionally stressful. Not only are you handling physical responsibilities of addressing your loved one's daily needs such as helping him move around, taking care of housekeeping and cooking responsibilities, and keeping his finances and medical needs organized, but you are also coping with the emotional challenges of watching a loved one age. Though many seniors are capable of maintaining active and vital lifestyles throughout the entirety of their lives; other seniors cope with debilitating physical and cognitive challenges that can be extremely difficult for loved ones to accept. You remember this senior when he was young, and it can be difficult for you to deal with the changes that he is undergoing a regular basis.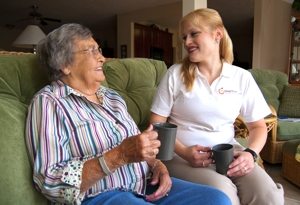 Experiencing caregiver stress and fatigue is not about you not being a good enough caregiver. It is not an indication that you don't care enough about your aging loved one, or that you are not capable of fulfilling his needs. It is perfectly normal for anyone who is taken on the responsibilities of being an in home care provider for an aging adult to cope with emotional challenges and physical exhaustion. This is especially true of the senior who you are caring for is a beloved family member. You may push yourself excessively hard to be available and do more than you should. This is why it is extremely common for caregivers to report poor health, emotional stress and difficulty in other relationships after becoming an in home care provider.
By acknowledging caregiver stress and fatigue, you are able to address these challenges and overcome them effectively so you are able to be the best caregiver possible.
Here are some tips for overcoming caregiver stress and fatigue:
Take time every day for yourself. Even if this is just a bubble bath or half an hour spend reading a book, carve out some time that will be about focusing only on use of you can decompress and relax
Participate in a senior care support group where you can find others who are dealing with the same challenges in gain emotional support
Hire a home care provider to be in the home one or two days per week so that you have time off
Start writing in a journal daily so you have place to express your emotions
Forgive yourself for feeling these things, and allow yourself to take the time off that you desire.
The caregivers at Great Care are available to talk with you and your family about all of your senior care needs. Great Care is an elder care agency providing quality and affordable senior care in Zionsville, IN and the surrounding areas. Call (317) 595-9933 for more information.