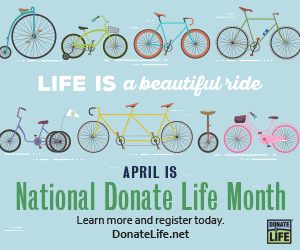 Each April, Donate Life America observes National Donate Life Month by encouraging Americans to register as organ, eye and tissue donors. Great Care celebrates those who have saved lives through the gift of donation, and joins in sharing awareness of important local, regional and national activities this month.
This year, the National Donate Life Month 2019 bicycle-themed rallying cry is, "Life is a beautiful ride."
For a great reason.
"Like the donation and transplantation journey, a bicycle serves as a symbol of progress, renewal and the moving circle of life," says Donate Life America. "Bicycles come in all styles, shapes and sizes, but each is comprised of the same components, essential to supporting the rider and converting their energy into motion."
That distinction is made by the fact that organ, eye and tissue donation offers many ways to give hope, support and strength to patients waiting, recipients and donor families, says Donate Life America.
"We each carry the potential to help make life a beautiful ride for ourselves, and then for others, by registering as a donor, considering living donation, being a caregiver and championing the cause," Donate Life America says. "This National Donate Life Month, we ask you to consider your role in this lifesaving and healing journey, and how you can inspire others to provide hope through donor registration and living donation."
According to Donate Life America, 114,000 people are waiting for a lifesaving transplant. Statistically, every 10 minutes another person is added to the national transplant waiting list, and 8,000 deaths occur annually in the U.S. because organs are not donated in time. The good news is, we have the power to help. If one person donates an organ, cornea and tissue, he or she could save up to eight lives.
"People of all ages and medical histories should consider themselves potential donors," Donate Life America notes. "Your medical condition at the time of death will determine what organs and tissues can be donated. A national system matches available organs from the donor with people on the waiting list based on blood type, body size, how sick they are, donor distance, tissue type and time on the list."
Donate Life America estimates 95% of Americans are in favor of being a donor, but only 58% are registered. The organization encourages social media users and influencers to help bridge this gap by sharing information and National Donate Life America Month awareness and education:
https://www.facebook.com/DonateLife/
Follow @DonateLife on Twitter
https://www.instagram.com/donatelifeamerica/
Also, register online to be an eye, organ and tissue donor by clicking the Donate Life logo below or visiting DonateLife.net. Registration takes less than a minute!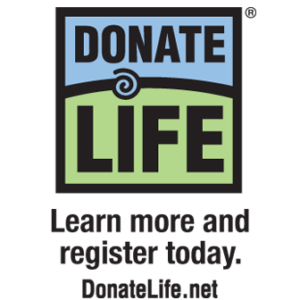 The professionals at Great Care are available to talk with you and your family about all of your home care needs, including respite care. Great Care is a non-medical in-home care agency providing quality and affordable elder care in Fishers, IN and the surrounding areas. Call (888) 240-9101 for more information.