There are two ways that you can become a family caregiver for an aging loved one. The first is suddenly falling into the position when a loved one begins suffering from a medical condition or injury and requires ongoing care on a consistent basis. The second is to carefully plan out your role as a caregiver and enter into the arrangement fully aware of your role. Either way you fall into your position providing home care for an aging loved one, it is essential that you are realistic about your caregiver responsibilities and what they will mean for your current lifestyle. Being realistic about these responsibilities means knowing not only your capabilities and limits, but also what you are willing to do to provide care for your loved one.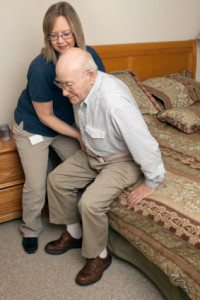 This may be a difficult concept to come to terms with because you want to show your love and devotion to your loved one by providing the best care possible, or because you are feeling uncomfortable with your new responsibilities and are displeased with yourself about feeling this way. However you are feeling about this change in your life, the first step you need to make is coming to terms with these feelings and clarifying your expectations of yourself. You can't be expected to feel thrilled about becoming the caregiver of a family member with whom you have had a strained relationship in recent years, but you also can't expect to feel thrilled about becoming the caregiver of a family member with whom you have a wonderful relationship if becoming this caregiver means you will have to sacrifice other areas of your life that are very important to you. Coming to terms with these feelings will help you to enter the caregiving role with a more realistic view.
Some of the responsibilities that you will need to be realistic about and make important decisions regarding include:
How comfortable are you with the idea of bathing your loved one or helping him in the restroom?
Do you expect to be paid for your work or to have access to your family member's bank account to pay for expenses?
How comfortable are you preparing meals and helping your loved one eat?
Can you make the move to live with your loved one, or to have him move in with you?
How much time can you realistically devote to providing care for your loved one while still taking care of your other responsibilities?
Are there adjustments you can make to your responsibilities such as doing laundry at your home twice a week that can make it easier to fulfill these obligations?
Are you really prepared to handle caring for another person without assistance?
The caregivers at Great Care are available to talk with you and your family about all of your caregiver needs. Great Care is an elder care agency providing quality and affordable senior care in Fishers, IN and the surrounding areas. Call (317) 595-9933 for more information.