Your mother had a stroke and the doctors have recommended that she have an in home care provider to ensure that she makes a full recovery. You've mentioned that you could certainly take on this role as a caregiver, but your mother turned around and said that she doesn't want that. She would rather hire professional home care providers.
While this can sting, there are probably a number of reasons why your mother might not want you to be her primary caregiver, so try not to take it too personally, at least until you know the reasons why. For one thing, your mother may know that a professional in home care provider would have the experience that she may need in order to remain safe and comfortable in her home.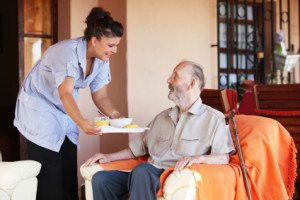 When a person needs a high level of care, sometimes the difference between great care and care that could lead to having to take a trip back to the doctor, or worse, to the hospital, could be the experience that the caregiver has. In home care providers are generally trained to know just what to look for and how to manage care for elderly patients who are recovering from stroke, heart attack, surgery, or any other physical condition. Most family caregivers need to learn about these methods as they provide the care, which can lead to major problems and complications.
You should also understand that your mother is likely not denying you as her caregiver because she doesn't love you or that she doesn't trust you. You need to sit down and listen to what she has to say about the topic before you begin to make assumptions about all of this.
Your mother's care should be the most important thing to you. That means that if you knew that you couldn't provide the right level of care for her, then you would step aside and even encourage her to hire an in home care provider, even if she didn't want to. What do you think her reaction would be if that were to happen? She might be hurt and take it personally. So what would you try to tell her?
You see, when a parent refuses to allow their child to be their primary caregiver, it doesn't mean it's something personal but rather than she may very well be thinking about both her and your overall well-being and understands that a professional in home care provider is the right option.
The caregivers at Great Care are available to talk with you and your family about all of your senior care needs. Great Care is an elder care agency providing quality and affordable caregiver services in Zionsville, IN and the surrounding areas. Call (317) 595-9933 for more information.