Burnout is a common condition that occurs with many people who work in high stress careers. It often happens with teachers, nurses, and caregivers. Because these careers involve taking care of other people, it is easy to lose focus on what matter in your own life and burnout takes over. When caregivers are burned out, they are not motivated to do any kind of work and they can fall behind on their caregiver duties. In order to avoid burnout, caregiver stress needs to be closely monitored.
Challenging Facets of Providing Care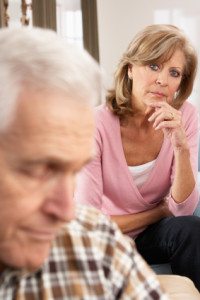 Being a caregiver is a multifaceted job and whether you are working as a caregiver for a career or you are caring for a loved one, there are many pros and cons to the job. Caring for elderly adults does interrupt many life events and it can create pressure on many family budgets. Caregivers tend to give many months or years of their lives to caring for elderly loved ones and without help, caregiver stress can occur.
Watch for Signs of Burnout
Caregiver stress can quickly turn to burnout, which can cause even more problems. The first problem is related to the health and wellness of the caregiver. If the caregiver is not healthy, the caregiver cannot provide proper care. This will result in the elderly relative not receiving medication or being fed at the right time. It can also result the elderly caregiver not providing the proper care for his or her own family, because caregivers who are stressed and burned out often remove themselves from their normal lives because of depression caused by stress and burnout.
Symptoms of Burnout and Stress
Senior care stress shows itself in a variety of different ways. The symptoms are very similar to signs of depression, which is why caregiver stress can so quickly turn to depression. Family caregivers need to watch for symptoms like not enjoying activities that normally bring joy. Caregiver stress also can show in caregivers being easily irritable and having difficulty concentrating. Stress can also drive men and women who normally lived healthy lives to turn to self-medicating through drinking, smoking, and overeating. Overreacting to small events is another common sign, so is having difficulty focusing.
Get Proper Health Care
When adults are feeling signs of caregiver stress, the first step is to recognize that stress is there. Family caregivers might not realize that they are stressing because they are usually not aware that they are suffering. But, once they realize they are having issues, they should get help from a professional, either a mental health specialist or a primary care provider. Mental health is very important and people occasionally need a tune-up, much like a checkup for physical health. It might be recommended that caregivers step away from their jobs for a little while so they can properly care for themselves and get back to a healthy state of mind.
The caregivers at Great Care are available to talk with you and your family about all of your senior care needs. Great Care is an elder care agency providing quality and affordable caregiver services in Greenfield, IN and the surrounding areas. Call (317) 595-9933 for more information.