Years pass and the range of motion in the body's joints diminishes, especially if they are being stretched less and lubricated less. Poor flexibility also has a negative effect on strength and endurance. Good flexibility promotes physical and mental well-being. Yoga and similar body-stretching exercises stimulates the neurotransmitters in the brain. Stretching also helps alleviate stress and wards off anxiety and depression.
A good warm-up is necessary before any stretching routine. Some die-hard yoga enthusiasts love to use a long warm bath or shower before beginning their flexibility routine to prepare muscles for movement. The same effect can also be gained with some light exercising.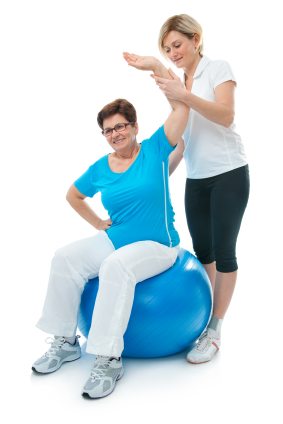 Consider getting a massage. A sports massage therapist especially, can help pinpoint weakness in the muscles and bring balance to the body. Sometimes muscles can get into a state of chronic tightness; a good massage can help it to relax enough to restore some range of motion to the affected muscle.
Try joining a health club, especially one that offers yoga classes. Many health clubs now cater to older groups as well, so if you're in your 40s or 50s you don't have to be in a yoga class full of 20 year olds.
Being flexible helps to ward off stress, which is one of the side effects of being a home care provider. The warming up and exercising and cooling down routines help your mind get in touch with your body, put you in a state of meditation, clear your thoughts and worries, and make you feel mentally and physically rejuvenated.
What are some of the benefits of being flexible?
Keep full range of motion of joints for a longer period of time
Helps keep you fit
Aids in preventing aches and pains
Promotes good posture
Loosens tight muscles
Decreases the risk of developing back pain
Helps your heart by preventing arterial stiffening
Decreases inflammation
Could improve your lifespan
Alleviates stress
Decreases the likelihood of falls in older age
Keeps muscles stronger for a longer period of time
Helps reduce risks of developing tendonitis
Staying flexible through regular yoga routines helps the body feel younger and also helps increase mental clarity and peace. These are really valuable benefits for the home care provider. Flexibility training should be added to any regular exercise routine. Yoga has been shown to reduce risks of knee injury because it helps open the hips and improve alignment of upper and lower leg bones; this process reduces strain on knee joints.
The caregivers at Great Care are available to talk with you and your family about all of your senior care needs. Great Care is an elder care agency providing quality and affordable caregivers in Greenwood, IN and the surrounding areas. Call (317) 595-9933 for more information.