Many families look forward to traveling every summer. Their family vacations are one of the most exciting aspects of the weather getting warmer and each year they excitedly anticipate the time that they are going to spend together on one of their many adventures. If, however, you have been providing elder care for an aging loved one, you may find that your plans for vacation may not be as simple this year as they have been in the past. You do not want to leave your aging loved one out of the fun, but if mobility issues and cognitive challenges are making it difficult for your aging loved one to take care of his activities of daily living, you may find yourself worrying that travel may not be safe, comfortable or feasible for your entire family any longer. Rather than immediately deciding that you will either not go on vacation or will hire home care services to provide elderly care services for your aging loved one while the rest of the family is enjoying a trip, find ways that you can modify your usual plans in order to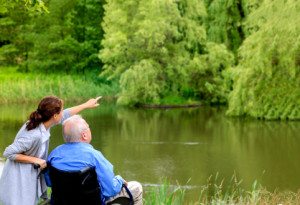 include your loved one.
Some of the ways that you can take your elder care on the road and make traveling safe and comfortable for your aging loved one include:
If you are accustomed to flying when going on vacation, consider going somewhere where you can drive. Driving offers much more control than flying, and means they you can take breaks and detours whenever you need to.
If driving is simply not an option, look for a direct flight that is as short as possible. If the flight needs to be long, look for one that is overnight to your loved one may be able to sleep.
Bring plenty of changes of clothing so that you can handle any spills or other emergencies that may arise. Also bring laundry supplies with you so that you can stop at laundromats along the way if necessary.
Provide pillows and blankets to ensure that your aging loved one is comfortable along the way.
Bring plenty of beverages and snacks with you to keep everyone satisfied.
Make sure that any necessary medications, including both prescription and over-the-counter drugs, are easily accessible so that your loved one can remain compliant with his medication recommendations throughout the trip.
Contact any hotel and other attractions in a long to inquire about handicap accommodations. Simply knowing that there are ramps, special entrances or other features that will help your loved one enjoy the trip more can give everyone peace of mind.
The caregivers at Great Care are available to talk with you and your family about all of your senior care needs. Great Care is an elder care agency providing quality and affordable senior care in Fishers, IN and the surrounding areas. Call (317) 595-9933 for more information.