As your parents age, you will need to make many important decisions regarding their care. One of the biggest decisions that you will make is the environment in which your parents will receive elder care. While there are several options for seniors who need some extra help, two of the most popular are assisted living and home care. Understanding the differences between these two can help you to make the best decision for your elderly parents.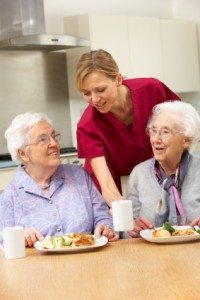 Which type of care you choose for your aging parents will rely primarily on the extent of care is that they need. Though there are other considerations, family caregivers often gauge how much medical and personal care a loved one may need when thinking about which elder care option is the most appropriate for them. When it comes to comparing assisted-living to home care, seniors living in an assisted living environment often have access to a higher level of medical care, though home care companions are capable of encouraging medication compliance, proper diet, and management of some basic medical needs.
The most distinct difference between assisted living and home care is that those seniors participating in home care will remain in their own home or in the home of a loved one, as opposed to moving to a new environment are assisted living.
Depending on the extent to which a senior needs help on a daily basis, and assisted-living facility could consist of individual homes, apartments, or hospital-like building. Because most seniors experience a gradual decline in their mental and physical condition as they age, many assisted living facilities offer a transitional unit. This is generally a section of the facility where people can continue to live and receive increased levels of care as their needs progress.
Most seniors would say that they would prefer to stay in their own home and receive care as opposed to moving to a new facility. Staying in their own home allows seniors to feel comfortable in the familiar environment, stay connected to their community, and generally allows a more active way of life will living in an assisted living facility.
One distinct difference between assisted living and home care that should be noted that assisted-living facilities are often located very close to emergency medical care facilities. This makes it faster and easier to get seniors to emergency care if needed.
If you're having trouble making the decision between an assisted living facility or home care for your aging loved ones, you should consider visiting several facilities in your area. Ask for a tour and meet some of the residents. This can help you to better gauge whether your parents would be comfortable and happy there.
The caregivers at Great Care are available to talk with you and your family about all of your elder care needs. Great Care is an elder care agency providing quality and affordable senior care in Indianapolis, IN and the surrounding areas. Call (317) 595-9933 for more information.